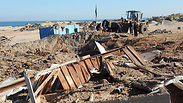 Damage in Gaza following IDF strike
The Israeli Air Force struck several Hamas targets overnight Saturday after a rocket was fired at Israel from Gaza, the military said.

A military compound in the northern Gaza Strip, as well as two naval vessels belonging to the terror organization were targeted in the nighttime aerial raid.

The strikes come after a projectile fired from the Strip landed in an open area in the Eshkol Regional Council, one of many Israeli communities located along the Israel-Gaza frontier. There were no reports of any damage or injuries.

Security forces searching for remains of the rocket fired into Israel (צילום: רועי עידן)

The IDF Spokesperson's Unit confirmed the strikes, emphasizing they came in response to "the terror attacks from the Gaza Strip, which include incendiary balloons and attempts to damage our security infrastructure over the past few days."

The military emphasized they take any attempt to harm Israeli civilians very seriously and hold Hamas responsible for the developments in the coastal enclave.

Friday also saw a similar chain of events unfold, with Israeli military striking two Hamas positions in the northern and southern Gaza Strip, in response to two rockets fired into Israel from the coastal enclave.

In addition, earlier on Saturday an anti-tank missile attached to a cluster of balloons landed in the Sdot Negev Regional Council—bordering the Strip—and was neutralized by police sappers. No one was hurt in the incident.

Despite the volatile situation along the southern border, Palestinian sources said the Egypt-brokered, indirect negotiations between Israel and Hamas, to reach a possible ceasefire arrangement, are still ongoing.

The delegation of Egyptian intelligence officials, which has been mediating the talks for several months, arrived in Israel on Saturday after spending a number of days in the Strip.