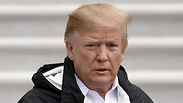 President Donald Trump said in a speech to Republican Party donors that he would win 98 percent of the vote if he ran for the position of prime minister in the Israeli elections, according to a report in the Axios news site Sunday.
In a closed meeting at Trump's Mar-a-Lago residence, the president, who spoke to top-tier RNC donors in a closed meeting, also reportedly said that "The Democrats hate Jewish people."
The president said he was baffled at the support the Democratic Party receives from the American Jewry, pointing to the controversy surrounding the Muslim congresswoman—Ilhan Omar—who made several controversial anti-Israel remarks over the past few weeks, reports Axios.
Trumps went on to emphasize his contribution to the Jewish state, focusing on a historic decision to recognize Jerusalem as Israel's capital and move the US embassy to the city shortly after.