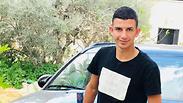 20-year-old Omar Abu Lila
Israeli military raided the home of the suspected Ariel attacker and arrested his teenage brother early Monday morning. The security forces also questioned the father of the suspect, and searched a store belonging to the family. The 20-year-old Omar Abu Lila, from the village of Az-Zawiya in the West Bank, is suspected of killing two people and seriously wounding two others.

The Israel Defense Forces launched a massive manhunt for Lila on Sunday after he shot dead 19-year-old Staff Sergeant Gal Keidan, and wounded two others - one seriously and one critically - in a shooting and stabbing attack close to the West Bank settlement of Ariel. One of the victims, Rabbi Ahiad Ettinger died Monday morning of wounds he sustained in the attack. He was a father of 12.

"Throughout the night, the Israel Defense Forces, in cooperation with the Shin Bet, the Border Police and the Israel Police, operated in the area of the villages in the area of the Ephraim Regional Brigade in pursuit of the terrorist," said the military in a statement. "In the meantime, extensive operational and intelligence efforts are underway in order to locate the perpetrator."

On his Facebook page, Lila published posts praising Palestinian President Mahmoud Abbas, and there was hardly any reference to political and religious issues. The only post to ever raise suspicions about his intentions, was a condemnation of Israeli security forces entering Temple Mount last summer.

Footage of the attack (צילום: באדיבות "אנשי הדממה")

The Sunday's incident apparently began when the 20-year-old stabbed the soldier at the Ariel Junction and then stole his rifle and shot him. The assailant used the weapon to fire at three vehicles, hitting a civilian and then hijacking a car, which he drove to another junction nearby where he shot another person before continuing on to a nearby Palestinian village, said the military.

The security footage from the scene of the attack shows Lila approach the bus station where the 19-year-old Keidan was patrolling the area. The attacker is then seen confronting the soldier, grabbing his weapon and shooting him at point blank range, while soldiers stationed on the other side of the intersection open fire at the Palestinian.