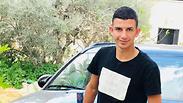 IDF troops on Tuesday killed the suspected gunman who shot dead an Israeli soldier and a rabbi in a terror attack in the West Bank on Sunday.

Omar Abu-Laila, 19, was killed in a shootout in the West Bank village of Abwein, near Ramallah. IDF forces surrounded the house and when the suspect opened fire, he was shot dead by the Israeli troops.

Palestinian sources reported earlier Wednesday that IDF forces were raiding a house in a village near the city of Ramallah during their hunt for Abu-Laila. According to the sources, shots were fired at the Israeli troops and the village's power had been cut off.

Prime Minister Benjamin Netanyahu commended the security forces for the successful operation. "Israel's long reach will touch anyone who tries to hurt its civilians and soldiers," he said.

Sunday's attack began when Abu-Laila stabbed Staff Sgt. Gal Keidan at Ariel Junction in the northern West Bank, stole his rifle and then shot and fatally wounded the 19-year-old soldier.

Abu-Lila used the weapon to fire at three vehicles at the junction, including that of Rabbi Ettinger, a 47-year-old father of 12. According to the family, the rabbi realized he was caught up in a terror attack and opened fire on the terrorist before he himself was shot.

The terrorist then hijacked a car and drove to another nearby junction, where he shot a third person before fleeing into a nearby Palestinian village, the military said.

The rabbi was critically wounded and while doctors at Beilinson Hospital in Petah Tikva fought for almost 24 hours to save his life, he ultimately succumbed to his wounds.