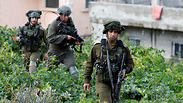 IDF troops in Nablus
Photo: Reuters
The Israeli military said it has shot and killed two Palestinians who attacked troops at Joseph's Tomb in the West Bank early Wednesday morning.

The military says several explosive devices were hurled at soldiers securing Jewish worshippers at the biblical tomb in the city of Nablus. Troops opened fire in retaliation and killed two of the assailants.

The Palestinian Health Ministry identified them as 21-year-old Raed Hamadan and 20-year-old Zeid Nouri.

Late Tuesday, Israeli forces killed a Palestinian suspected of carrying out a weekend stabbing and shooting attack that left 19-year-old Staff Sergeant Gal Keidan and 47-year-old Rabbi Achiad Ettingert dead near a West Bank settlement of Ariel three days ago.

IDF forces locate Ariel killer

Another soldier, 19-year-old Alexander Dvorsky, was seriously wounded in the attack and spent two days at the Beilinson Hospital in Petah Tikva fighting for his life. Dvorsky's condition has since stabilized and is now described as moderate.

The military says 20-year-old Omar Abu Lila was fatally shot when he opened fire on soldiers trying to arrest him.

"I congratulate the Shin Bet, Israel Police special anti-terror unit and the IDF on the quick action that led to the elimination of the abhorrent terrorist who murdered Sgt. Gal Keidan and Rabbi Achiad Ettinger," said Prime Minister Benjamin Netanyahu. "The long arm of Israel reaches all those who attack our civilians and our soldiers."

The two-day manhunt for Abu Lila had raised tensions in Israel and the West Bank following a period of relative calm.