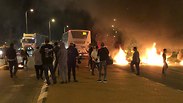 Gaza border residents protests against recurring rockets fired at their communities from the Strip
After years of air raid sirens, rockets and mortar fire, the mayor of a southern Israel city has hit back at one of Hamas' leaders in the Gaza Strip, writing an open letter in Arabic in which he highlights the differences between his own thriving community and the desolation of the coastal enclave run by the terror group for more than a decade.

In his open letter to Ismail Haniyeh published on Facebook, Sderot Mayor Alon Davidi included two photos — one showing Sderot's newly built neighborhoods, while the second shows Haniyeh's destroyed office, bombed by the IDF on Monday during the current clashes between Israel and Hamas. "You lost," Davidi told Haniyeh in the accompanying missive.

"Good morning, ya Haniyeh," says Davidi, in a somewhat mocking tone. "I wanted to send you an email or a fax, but it seems your offices no longer exist."

"Usually, I address the residents of Sderot. Now it's time to address the other side," he says.

"Ismail Haniyeh — can you not see that you're losing? You take all the money you get from the Arab world and instead of using it for food, a functioning economy and a future for Gaza's residents, you waste it on your imaginary attempts to beat us."

"It's true Haniyeh, things aren't simple (here). Sometimes it's rough and I'll go as far as to say we're suffering. But look at the results of your behavior… How does Gaza look in comparison to Sderot?

"You've been launching rockets at us for 18 years," says the mayor. "But it seems you don't know what goes on in this city — it's booming! Hundreds of new residents join us every year, new homes are being built. We're growing and growing stronger.

"And what did you get out of it?? There's nothing but destruction on your side," he continues, referring to IDF strikes that left parts of Gaza in ruins.

"Haniyeh, between you and me — when your family needs medical care, you send them to Israel. But your residents have nowhere to go (when they need help).

"It's true, life is difficult for us in this reality, operated by a cruel and evil enemy as yourself, who will go to any measures to launch rockets at Israeli civilians instead of fighting the IDF, who you fear!

"You think you've won, but reality proves that you've lost again and lost big time. You thought you'll make Sderot into a ghost town — but we're powerful!

"You lost, your residents are losing and will lose more in time to come. It's time to change course," Davidi says at the end of the letter.

Residents of Gaza border communities and their supporters rallied locally and in Tel Aviv several times in the past year to protest the government's reaction to the violence from Gaza.

In an August protest that followed months of airborne incendiary devices launched at the border region, residents held banners declaring, "We're not cannon fodder" and "Bibi, Bibi, wake up, the south is burning"—referring to Prime Minister Benjamin Netanyahu and what they believe to be a policy of governmental neglect of their peripheral region.

"We're tired of burned fields and weeping children," said signs carried by the people of Sderot, as they demanded that the government find a solution to the the attacks that had become a daily reality over the past 18 years.

On Tuesday night, dozens of residents from Israel's Gaza border communities took to the streets to protest the deteriorating security situation on the southern border.

The demonstration began just as the IDF lifted all restrictions on activities in the area, which minutes later was followed by an air-raid siren following the launch of a rocket at the Eshkol Regional Council.

The protesters waved banners and demanded that the government adopt a definitive policy when it comes to dealing with violence from Gaza.