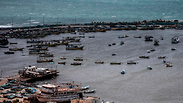 Gaza's fishing zone
Photo: AFP
Israel allows fishing zone in Gaza to be expanded by record range
Gaza fishermen's committee say they've received Israel's approval through Egyptian mediators to extend the permitted zone from 22km to 28km, range unseen since the second intifada; move could indicate progress on a long-term ceasefire deal
Palestinians said Monday that Israel has allowed the expansion of the fishing zone to a range which hasn't been seen since the second intifada, in a move reinforcing the belief that a ceasefire arrangement between Hamas and Israel might be on the cards.

The Gaza fishermen's committee said the permitted fishing zone will be extended from 22km (12 nautical miles) to 28km (15 nautical miles). The fishing zone has been completely closed since last Monday, when a rocket fired by Gaza militants destroyed a house in central Israel, wounding seven people. The rocket attack sparked another round of cross-border fighting between Israel and Gaza's rulers.

The committee added they've received Israeli approval through Egyptian mediators, who have in recent weeks have been shuttling between Jerusalem and Gaza in an effort to reach a long-term ceasefire deal between the conflicting sides.

The Coordinator of Government Activities in the Territories (COGAT), Kamil Abu-Rukun, explained the move is intended to prevent a humanitarian crisis in the coastal enclave. "This is a part of our policy - which distinguishes between terrorism and general population - of preventing the deterioration of humanitarian conditions in the Gaza Strip," he said. "Any deviation from the extended zone will be handled accordingly by the security forces."

Gaza's fishing zone (רויטרס)

Mazen Koran, a Gaza fisherman, said he remains pessimistic despite the expansion of the zone. "The Jews close the fishing zone when the fishing season starts, and open it when the season is over, so the fishermen live under constant Israeli pressure," he said. "We fish in order to make a living, to take care of our children and families," he added.

This move is part of the smaller scale ceasefire agreement reached last week following the escalation on the Gaza border, and it might potentially be a part of the broader deal currently being indirectly negotiated.

In addition, the Kerem Shalom and Erez border crossings - which have also been closed since last Monday - were reopened on Sunday morning.

Although the tense calm appears to be holding, Israeli troops continue to mass along the Gaza frontier in case Palestinian factions in the Strip resume border violence.