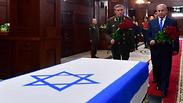 Ceremony in Russian Defense Ministry where Baumel's body was officially returned
Photo: GPO
The Russian army chief of staff demanded Thursday to be given more warning time before any Israeli attacks on military targets in Syria. The demand comes a day after Israel announced the return of the remains of an IDF soldier missing since the First Lebanon War in 1982, whose body had been located by Russian troops in Syria.

The remains of Brooklyn-born Baumel, were repatriated on Wednesday, some 37 years he went missing after the Battle of Sultan Yacoub, and were just one of 20 sets of remains that arrived in Israel as part of Operation Bittersweet Song. The operation was made possible by Israel's close cooperation with Russia, a close ally of Damascus, and took two years to complete.

Valery Gerasimov, chief of Russia's military general staff, apparently made the demand to senior Israel Defense Forces officers, whom he met during a meeting between Prime Minister Benjamin Netanyahu and Russian President Vladimir Putin in Moscow.

The two sides have yet to each an agreement on the issue. The deployment of the Russian S-300 air defense system in Syria was also discussed during the meeting, with the Moscow officials insisting on eventually transferring the complete control of the batteries to the regime officials.

A diplomatic source said that Putin himself initiated the meeting between the senior military officials, as well as a ceremony in the country's Defense Ministry where Baumel's body was officially returned in a casket wrapped in Israeli flag, surrounded by high-ranking Russian military officials.

Although the country's Defense Minister Sergey Shoigu was absent from the meeting, the fact that Gerasimov personally participated in the ceremony, indicates the relations between the military officials of the two states had been restored, which is believed to be the main objective of the meeting.

The source added that the discovery of Baumel's body will not undermine the efforts to recover the remains of other missing Israeli soldiers who fell in battle, and denied suggestions that the discovery was made public to coincide with the upcoming Israeli elections on April 9.

The source also said that Putin implied that "the special relationship" with Netanyahu is what prevented a military confrontation between the two countries after the incident in September when Syria accidentally downed a Russian plane during an Israeli aerial assault in the war-battered country, which sparked an international crisis.