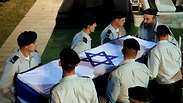 Funeral of Zachary Baumel
Photo: Reuters
After 37 years, Israeli soldier missing since First Lebanon War laid to rest
Funeral attended by President Rivlin, Prime Minister Netanyahu and relatives of Zachary Baumel, whose remains were found in Syria by Russian troops; US-born soldier disappeared in 1982 battle during First Lebanon War; 'I am letting this land have you … Rest in peace, my dear brother'
Fallen Israeli soldier Zachary Baumel was laid to rest at the military cemetery on Mount Herzl in Jerusalem Thursday, a day after his remains were returned to his family and 337 years after he went missing in Lebanon during the 1982 war. The funeral was attended by many high-profile Israeli officials, including President Reuven Rivlin and Prime Minister Netanyahu, as well as members of the soldier's family.

Baumel's family received his remains on Wednesday, after forensic scientists in Tel Aviv confirmed by DNA test that the body belonged to the Brooklyn-born soldier.

Asna Haberman, Zachary's sister, the return of the remains is the result of 37 years worth of prayers. "All the prayers have brought us here. I thought what I would do when you return, but now I can't even hug you," she said. "But the soil is hugging you tightly because there is nothing but love between the son who gave everything for this land and the land itself."

"We are saying goodbye to you today. I am letting this land have you … Rest in peace, my dear brother," the sister said.

Prime Minister Benjamin Netanyahu, who also spoke at the ceremony, remembered Zachary's father, Yona, who passed away 10 years ago. "On this day we remember the late Yona and his love for Zachary … His pain, his longing, his faith, his tireless devotion to bring Zachary home," said the prime minister. "How unfortunate that you're not here with us to see the return of your beloved son."

"We have waited for this moment for 37 years, and I have seen people - born years after Zachary disappeared - shed tears," added Netanyahu. "The return of our sons touches the depths of our identities as Jews and Israelis."

"Zachary, 37 years ago - just a few days before the battle in which you fell - you wrote to your parents: 'Don't worry, everything is fine, but it seems that I won't come home anytime soon,'" eulogized Rivlin. "37 years have passed since that letter, you've come home, to this country's land, to Jerusalem."

"Today, we can say with full confidence that we are doing everything - both incomprehensible and unbelievable - in order to fulfill our promise to return the sons who did not return from battle ... and we will continue to make every effort to also bring home Zvi Feldman and Yehuda Katz - Zachary's two friends - who fell with him in the Battle of Sultan Yacoub" he added.

IDF Chief of Staff Lt. Gen. Aviv Kochavi said the return of the remains will finally give the family peace and ease their suffering. "The pain will remain forever … but if it's any consolation, Zachary was returned and buried in his country."

"I salute you Zachary Baumel, a courageous fighter, a man of faith and values who was forced by his devotion to fight until the end," he added.

Baumel's remains were repatriated to Israel several days ago after Russian troops located them in the Palestinian refugee camp Yarmouk in Syria. According to IDF spokesman Lt. Col. Jonathan Conricus, the body was returned to Israel on an El Al plane and identified after years of "significant intelligence operations."

Baumel went missing during the June 1982 battle against Syrian troops at the Lebanese village of Sultan Yacoub, close to the Lebanese-Syrian border. He was believed to have been captured by enemy forces.

The operation to return Baumel's remains, led by Colonel A. of the intelligence branch, was planned in recent months and reached its height a week ago, when the troops who were tasked with bringing his body back were given a green light to proceed.

"There was no deal and no negotiations to return Baumel. He was returned in a military operation," said IDF Spokesperson Brig. Gen. Ronen Manelis.

"We are not saying where his body was found. The operation proves that we never abandoned the Sultan Yacoub case. The families know that we will continue to make every effort to bring their sons home."