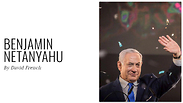 Prime Minister Benjamin Netanyahu in Time Magazine
Photo: Time
Prime Minister Benjamin Netanyahu made it to Time Magazine's 100 most influential people of 2019, giving him yet another victory following his election win last week.

TIME 100 is an annual listicle of the 100 most influential people in the world, which includes exceptional individuals from all spheres of business and industries.

The magazine's write-up on Israeli premier published Wednesday opens with the words "Israel is Bibi's nation."

"The reasons for his enduring appeal are clear. The second intifada undermined Israel's political left, with fresh memories of suicide bombers rebuking the idea that there exists a partner for peace," the article said. "Ongoing rocket attacks launched by Hamas show that present dangers are real. And Iran's power and ambition signal that even two generations after the Yom Kippur War, Israel can face existential threats."

The write-up's author - journalist and Iraq War veteran - David French, later said on his Twitter account that had it not been for the word limit, he would've explored much deeper Netanyahu's appeal to conservative Americans, calling him "the most consequential foreign leader in the US."
I wrote Bibi Netanyahu's entry in this year's #TIME100 issue -- I had very little space, or I would have added that his unique appeal to conservative Americans (the most consequential foreign leader in the U.S.) only magnifies his influence: https://t.co/reV4eKBOgn

— David French (@DavidAFrench) April 17, 2019
French finished the write-up by saying that despite the possible indictment on corruption charges the prime minister is facing, the April 9 vote shows that "sufficient numbers of Israelis believe not just that Netanyahu is partly responsible for that success but that he's the nation's indispensable man."
This year's list has a record number of women with 48 female honorees, with the most prominent being former first lady, Michelle Obama, who had a write-up written for her by pop superstar Beyonce. "I am so grateful that my daughters and my son live in a world where Michelle Obama shines as a beacon of hope," the singer wrote.
Other honorees include recent Oscar winners Rami Malek and Lady Gaga, as well as pop singer Ariana Grande. Prominent sports personalities such as NBA player LeBron James and professional golfer Tiger Woods, also made the list.
Besides Netanyahu, a host of other political leaders made it to the TIME 100, such as US President Donald Trump and US Congresswoman Alexandria Ocasio-Cortez, a frequent critic of Israel.
Actor Dwayne "The Rock" Johnson also made the list, with Israeli actress Gal Gadot - expected to make an appearance at 2019 Eurovision in Tel Aviv - writing a blurb in the magazine about the action star.
"He is the true embodiment of the idea that people may forget what you said, people may forget what you did, but people will never forget how you made them feel. Dwayne always makes sure people feel their best when he is around," Gadot wrote.
"Our annual Time 100 issue is filled with tributes from teachers to students," said Time Editor-in-Chief Edward Felsenthal. "The TIME 100, which now, in its 16th year, is far more than a list. It is a community of hundreds of global leaders, many of whom support and challenge one another."