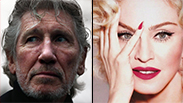 Roger Waters vs Madonna
Photo: Getty Images
Roger Waters, one of the most vocal advocates for cultural boycott of Israel, pens an open letter to Madonna, urging her to cancel her performance at this year's Eurovision Song Contest in Tel Aviv over Israel's treatment of Palestinians, and dismisses claims of harboring anti-Semitic views.

Madonna was earlier confirmed to perform at the Grand Final on May 18, after months long negotiations between the singer's representatives and the contest organizers. Israel won the right to host the event after Netta Barzilai's song "Toy" emerged victorious during last year's competition.

In a letter - published Wednesday in the Guardian newspaper - the former Pink Floyd frontman writes that artists who perform in Israel normalize "the occupation, the apartheid, the ethnic cleansing, the incarceration of children, the slaughter of unarmed protesters … all that bad stuff."

"Some of my fellow musicians who have recently performed in Israel say they are doing it to build bridges and further the cause of peace. Bullshit," said Waters. "To perform in Israel is a lucrative gig."

Later in the letter, the 75-year-old dismisses claims accusing him of being anti-Semitic, suggesting criticism of Israel is being unfairly equated to having anti-Jewish views.

"That accusation can be used as a smokescreen to divert attention and discredit those who shine a light on Israel's crimes against humanity," he said. "I should point out that I support the fight for human rights for all oppressed peoples everywhere. If I support the Rohingyas and deplore the Myanmar persecution of them, it doesn't make me anti-Buddhist."

Waters concluded the letter by appealing to everyone participating in the 2019 Eurovision, urging them to read the UN Declaration of Human Rights and rethink their decision to appear at the prestigious singing competition.

"I would urge all the young contestants – in fact all young people, in fact all people young and old alike, so that includes Madonna – to read the UN Declaration of Human Rights," he said. "It's been translated into 500 languages so anyone can apprise themselves of its 30 articles. If we all abided by them we might yet save our beautiful planet from its imminent destruction."

Waters is a longtime critic of the Jewish state, and as an active Boycott, Divestment and Sanctions activist he has frequently asked performers to refrain from coming to the Holy Land.