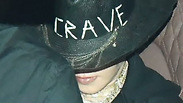 Madonna upon arrival in Israel
Photo: Yair Sagi
Pop diva Madonna landed in Israel late Tuesday evening ahead of her performance at the Eurovision Song Contest in Tel Aviv on May 18.

Madonna's participation in the prestigious song contest has remained in doubt until her arrival amid reports of disagreement over her salary and calls by pro-Palestinian groups to boycott the event.

The 60-year-old arrived in Israel from London on a private jet belonging to Israeli-Canadian billionaire Sylvan Adams, who apparently was the one to foot the bill for the singer's appearance, with the cost rumored to be around $1.5 million.

Shortly after landing, the pop superstar was whisked away to the Dan Hotel, where the entire fifth floor was closed off.

Madonna is expected to rehearse her performance in front of live audience at Tel Aviv Expo - where the contest is taking place - before performing at the Grand Finale on Saturday.

Madonna lands in Israel

On Tuesday, the singer defended her decision to appear at the event in Israel.

"I'll never stop playing music to suit someone's political agenda nor will I stop speaking out against violations of human rights wherever in the world they may be," the singer said in a statement.

"My heart breaks every time I hear about the innocent lives that are lost in this region and the violence that is so often perpetuated to suit the political goals of people who benefit from this ancient conflict. I hope and pray that we will soon break free from this terrible cycle of destruction and create a new path towards peace," she added.

Israel is hosting the Eurovision contest after local singer Netta Barzilai won last year with her song "Toy". The winning country customarily hosts the following year.