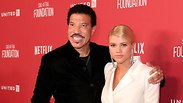 Lionel Richie with daughter Sofia Richie
Photo: Getty Images
The legendary Ameircan singer Lionel Richie will give Israelis something to look forward to this September during his first ever performance in the Holy Land, according to Ynet's sister publication Yedioth Ahronoth on Thursday.

The former Commodores member - who will 70 in a week's time - has had a series of world-wide pop hits in the 1980's, including "Hello," "Endless Love" and "All Night Long" after embarking on a solo career.

The concert is one of at least 30 shows Richie is expected to perform as part of his world tour, which includes the United States, Canada and the United Kingdom.

It was made possible by producer Marcel Abraham, who in the past has brought such artists like Justin Bieber, Bob Dylan and Leonard Cohen to Tel Aviv, and is the one behind the performance of pop diva Jennifer Lopez at HaYarkon Park his August.

In 2013, Richie performed at an annual Friends of the Israel Defense Forces fundraiser in Los Angeles, which raised a record number of $20 million for IDF soldiers' welfare. Billionaire Power Rangers creator Haim Saban, talent show judge and entrepreneur Simon Cowell were also among those who attended the event.

Over the course of his musical career, Richie has sold over 90 million records and won four Grammy Awards. The 69-year-old has three children, one of whom is a socialite and fashion designer, Nicole Richie.

The ticket sale will open next Tuesday on the official site of the Leaan ticket office.