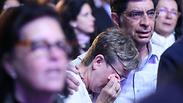 Leah Goldin during Remembrance Day ceremony
Photo: Motti Kimchi
Mother of fallen IDF soldier leaves meeting with Netanyahu in tears
Leah Goldin, mother of Hadar Goldin whose remains have been held by Hamas since Operation Protective Edge, confronts the prime minister and accuses him of trying to silence the families of MIAs and POWs days before the 5-year anniversary of the 2014 war
The mother of a fallen IDF soldier whose remains are held by Hamas in Gaza was left sobbing after a meeting with the prime minister, which she left just half an hour after it began.

Leah Goldin's son Hadar died alongside five other IDF soldiers during Operation Protective Edge on July 20, 2014, and his body is believed to be held by the terror group in the enclave to this day. Israel this week officially marks five years since the seven-week-long war broke out.

"The whole purpose of the meeting was to silence the families shortly before the anniversary of Operation Protective Edge," Goldin said after the meeting, which was held Tuesday evening between Prime Minister Benjamin Netanyahu and the families of Israelis held captive in the Strip.

The family of another soldier who was killed alongside Goldin - Oron Shaul - was also at the meeting. The relatives of Avera Mengistu and Hisham al-Sayed - two mentally ill Israeli citizens captured by Hamas after voluntarily crossing into Gaza - were among the attendees as well.

At the onset of the meeting the prime minister apparently offered to fly the families to New York City in order to allow them to participate at a ceremonial event at the main U.N. Headquarters, raising awareness about Israeli MIAs and POWs.

The offer prompted Goldin to confront Netanyahu as to why nothing has been done by his government until this point. "I wonder why all of a sudden you remembered who we are, after five years during which you did nothing," she said during the meeting. "We don't need a trip to New York, we've already done all of this successfully ourselves."

The Goldin family issued a statement after the event, suggesting Netanyahu's offer was made as part of his attempt to silence the bereaved families during a time when the country is marking Protective Edge's anniversary.

"We feel as though the prime minister was doing all he could to make it through the next two weeks, during which we will mark five years since the abduction of our son Hadar," said the family. "Even after this meeting, it's still unclear to us why Netanyahu is not making the return of our sons a condition for any rehabilitation of Gaza."

"Prime Minister Netanyahu understands the pain of the families and will continue to do everything in his power to bring their sons home," said The Prime Minister's Office in response.