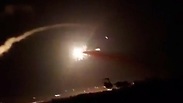 Israeli strike in Syria
Photo: Reuters
An Israeli missile hit a village in the Quneitra countryside in Syria's Golan Heights near the frontier between the two countries on Thursday, Syrian state media said.

State news agency SANA described it as "an Israeli attack" that caused only material damages.

The Al Majd Hadith TV channel reported that Hezbollah militants were seen in the area sometime before the strike.

Although Israeli strikes in the war-torn country have reportedly become a common occurrence, daytime attacks are rare. It remains unclear whether the area was attacked from the air or via a surface-to-surface missile.

During Syria's eight-year war, Israel has carried out strikes in Syria which it says have targeted regional arch rival Iran and Tehran's ally Hezbollah.

The Arabic-language Asharq Al-Awsat newspaper reported on Tuesday that Israeli warplanes bombed Iranian-linked targets in Iraq and Syria in July.

The sources told the London-based newspaper that on July 19, Israel carried out an attack on the base of an Iran-linked paramilitary group in the northern Salahuddin province of Iraq.

Asharq Al-Awsat also attributed an attack on the Daraa province on the Syrian side of the Golan Heights last week to Israel, as part of the same efforts to disturb Iranian entrenchment in the area.