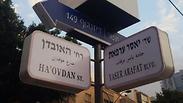 Yasser Arafat Street in Tel Aviv
Israelis get lost on Yasser Arafat Street in central Tel Aviv
Streets named 'Death Penalty for Terrorists,' 'Ismail Haniyeh' and 'Incendiary Balloons' appear in Israel's coastal city after an organization protesting Israeli government's 'weak' response to Palestinian terrorism launches another PR stunt
Israelis on Wednesday might have found themselves lost as the names of several Tel Aviv's main streets had been changed to the names of Hamas terrorists and places where terror attacks perpetrated by Palestinians took place.

The controversial signs were put up by the Israel Victory Project, a Middle East Forum initiative meant to steer U.S. policy toward backing an Israel victory over the Palestinians to resolve the decades-long conflict. The group has been protesting what they say is a "weak" Israeli response to Palestinian terrorism with various public relations campaigns that went viral.

For instance, Queen Esther Street was renamed to Dolphinarium Street (a night club where a Hamas suicide bomber blew himself up in 2001, killing 21 young men and women) and Bnei Zion Street was renamed to Incendiary Balloons Street.

Several other streets were renamed to Death Penalty for Terrorists, Yasser Arafat Street and Ismail Haniyeh Street among others.

"The Israeli public is disappointed by the weak response of the Israeli government to Hamas and by the ceasefire reached after the latest round of fighting," said the group in a statement.

"The Israeli Victory Project calls on elected officials, the IDF and the entire Israeli society to switch from a policy of appeasement to a policy of victory through military, economic and political means."

The Forum's director Gregg Roman said the protest was born out of "great pain."

"We must stop managing the conflict and decide that we need to end it … and do it on our own terms. This is the only way to end the conflict and this is what we're demanding from the future Israeli government."