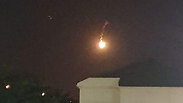 IDF strike in Gaza seen from Israel's side of the border
Report: 3 Gaza militants killed by IDF troops during infiltration attempt
Sources in the Hamas-controlled enclave say another Palestinian was left wounded when, according to Israeli military, 5 armed suspects were spotted trying to breach the border less than 2 hours after 3 rockets had been fired into southern Israel
Three Palestinian militants who were trying to infiltrate the border with Israel were killed by Israeli fire, the medical sources in the Hamas-controlled enclave said Sunday. The sources added that another Palestinian was left wounded.

Israeli military said at least five armed militants had been spotted by IDF troops monitoring the border late Saturday evening.

The military said an Israel Air Force helicopter as well as an IDF tank opened fire toward the suspects.

The incident took place less than two hours after three rockets were fired into southern Israel from Gaza, with two of the projectiles being intercepted by the Iron Dome.

The shrapnel from one of the rockets landed in a meat smoker located in the backyard of one of the residential homes in the southern city of Sderot, causing some damage to the structure.

The paramedics who arrived at the scene said at least six people required medical treatment as a result of the incident. Two people were lightly hurt while running to the bomb shelter, and four others - including a 79-year-old woman - had been treated for shock.

The rocket attack was the second within 24 hours. The rocket which was fired into Sderot late Friday evening was also intercepted by the Iron Dome, prompting the IDF to strike at least two Hamas "underground infrastructures" in the Strip.