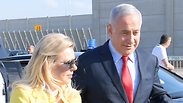 Benjamin and Sara Netanyahu
Photo: GPO
PM's wife restrained by own security as she tries to enter airplane cockpit
Sara Netanyahu apparently became enraged after believing the captain of the prime minister's flight to Kiev didn't greet her on the speakerphone; she was later caught on camera throwing away a piece of traditional Ukrainian bread presented to the couple upon landing
Prime Minister Benjamin Netanyahu's first official visit to Ukraine in the past 20 years on Sunday evening has been overshadowed by the alleged antics of his spouse Sara, who apparently attempted to break in to the cockpit during an El Al flight to Kiev after the captain failed to welcome her.

The prime minister travelled to the Ukrainian capital in order to hold a first official meeting with the recently elected Ukraine President Volodymyr Zelensky, a Jewish comedian who for years played a president on a TV show, to discuss joint infrastructure projects and cooperation in the economic sphere.

Sara Netanyahu apparently claimed the plane's captain failed to welcome her on the speakerphone as she was boarding the plane. She apparently became enraged and stormed the pilot cabin trying to open the door only to be restrained by her own entourage.

The captain said he did greet the prime minister's wife and once the plane was about to land, he wished all the passengers a successful trip, and singled out Sara by mentioning her twice.

The Prime Minister's Office later issued a statement denying the incident and calling the media report about the event "distorted."

"There was a misunderstanding that was immediately rectified and the flight carried on as planned. The story about security guards restraining (the prime minister's wife) is also a complete lie. Another attempt to divert attention from an important international visit."

El Al also issued a statement but without directly addressing the alleged incident. "The flight proceeded as planned. We were happy to host the prime minister and his wife on our flight to Ukraine."

The couple presented traditional Ukrainian bread upon arrival

The series of unfortunate events, however, didn't stop there as Sara was later caught on camera throwing away a piece of bread presented to the couple by the Ukrainians - as part of a local tradition - upon the prime minister's arrival in Kiev.

Dozens of social media users then embarked on a campaign to mock Mrs. Netanyahu and the alleged incident, with one user sarcastically praising El Al, saying that if Sara couldn't break the cockpit's door, nobody will be able to.