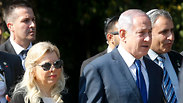 Netanyahu in Babi Yar
Photo: AP
Ukrainains irate as Sara Netanyahu throws bread on floor during Kiev welcome
PM seeks to downplay incident as country's social media slams his wife; political side of visit more successful with Israel and Ukraine agreeing to expand economic cooperation; prime minister and president visit site of WW2 massacre of Jews
KIEV - Ukraine's social media was fired up on Monday after footage showed Sara Netanyahu, the prime minister's wife, throwing away a traditional piece of bread that was presented to her during a reception ceremony in the capital.
Prime Minister Benjamin Netanyahu himself sought to make light of the situation, posting a video this evening entitled "Have you heard about the challah incident?" in which he jokingly tried to downplay the incident.
Serving local bread alongside a bowl of salt is an old-fashioned Slavic tradition that symbolizes hospitality, and Ukrainians were shocked by Mrs. Netanyahu's behavior not only for the lack of politeness but also as a sign of disrespect for their country's values.
The issue of bread in Ukraine is a particularly sensitive one. From 1932-33, the country experienced human-made mass starvation - known as the Holodomor (lit. killing through hunger) - which is estimated to have killed nearly 10 million people and is still considered the largest national disaster in the history of the Ukrainian people.
"My grandmother, the Holodomor survivor, always said to me: 'If you drop bread, pick it up, wipe it and kiss it, and put it back on the plate,'" a Ukraine resident named Lila posted online. "I'm far from kissing bread, but throwing it like that is repulsive and disgusting. "
Another Ukrainian posted that "Netanyahu would never let herself to act so offensively in a country like the United States."
The incident also generated anti-Semitic posts, with someone suggesting that they "send Sara Netanyahu to the Auschwitz death camp, where she would be taught to respect bread properly."
The first official response to the incident came from Israel's ambassador to Ukraine, Joel Leon.
"I spoke to the (Ukrainian) president's chief of staff, he told me it was not done deliberately, and there is no importance or reason for media interest," Leon said.
Sara Netanyahu's trip to Ukraine was already off to a rocky start, as reports emerged that she had to restrained by her own security service when she tried to break into the cockpit as she felt the pilot on the El Al plane had not greeted her sufficiently deferentially.
Netanyahu later released his own video, downplaying the bread incident.
"I am here on an historic visit to Ukraine, but it is doubtful that it would have received the media upgrade were it not for the incident of the challah," he said. "Look what the president's chief of staff said about the incident – he said it was clear that Mrs. Netanyahu did not intend to disrespect Ukraine.
"It's total nonsense, and furthermore, she came dressed in Ukraine's national clothing, yellow and pale blue, when she got off the plane, to honor Ukraine. But I tell you, if that's what it takes for this visit to bring about an extended free trade agreement, leading to a Ukrainian office in Jerusalem and other important things, then, alas, so be it."
The trip saw Netanyahu meet with Ukrainian President Volodymyr Zelenskiy at the Presidential Mariyinsky Palace in Kiev to discuss the expansion of the economic cooperation between the two countries.
After the meeting, during which Netanyahu invited Zelenskiy to Jerusalem - the two leaders participated in a ceremony signing three bilateral financial agreements.
In a joint statement with Netanyahu, Zelenskiy said that the two had discussed the establishment of joint trade and technology offices in Jerusalem and Kiev, which will jumpstart both economies. He also thanked Israel for backing Ukraine's territorial integrity after Russia's 2014 annexation of Crimea.
Zelenskiy also said that Ukraine wished to learn more from Israel in the fields in which it excels, such as security, cyber and high-tech, and invited Israeli technology companies to invest in Ukraine and make use of what he said was its excellent human capital.
"Our country is full of engineers and specialists," said Zelenskiy, the comedian turned politician who portrayed the president of Ukraine for three years in a television comedy show before being elected as earlier this year. "Our goal is to turn Ukraine into a hub for technology and high-tech."
Netanyahu and Zelenskiy later visited the Babi Yar monument in Kiev, where tens of thousands of Jews were massacred by German forces and local Ukrainian collaborators during their campaign against the Soviet Union in World War II.
Netanyahu and Zelenskiy, who is himself Jewish, gave speeches and shared their thoughts on the monstrosities that took place within walking distance of Kiev's bustling city center.
"It is hard to believe that this beautiful forest witnessed the atrocities that took place in here. The forest stayed silent, but so did the entire world," said Netanyahu.
"Babi Yar is endless pain. Hundreds of thousands of Jews and non-Jews perished in this mass grave. Babi Yar is a warning sign for mankind and a command for the Jewish people – we will defend ourselves against any enemy," he said.
"This unforgivable crime did not take place on a different planet, but a few minutes away from Kiev's bustling center."
President Zelenskiy said: "My heart aches thinking of these events. Today we remember our two peoples' sad history. These events cannot be described. I imagine the people who did not know that they were going to be slaughtered, most of them Jewish. After the Nazis were done with the Jews, they murdered other peoples."