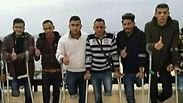 Gazans wounded in clashes at the border fence
As injuries increase, so does the criticism towards Hamas and its policy of sending young men to riot at the Gaza fence in exchange for small amounts of money or food, while the organization's heads are taking the Qatari money meant for the people, all for themselves.
According to the statistics, of thousands of Palestinians injured during the weekly protests at the border, the casualties are mainly youths who will, in the best-case scenario, limp for the rest of their lives, or worse, lose one of their feet.
An example of such criticism is a picture that's making the rounds online, where one can see the leader of Hamas, Ismail Haniyeh, with his six sons, standing healthy in tailored suits, and beneath it, a picture of Gaza youths who have had a leg amputated.
Another example is a rare recording of criticism of Hamas by a Gazan father whose wounded son was left on a gurney in the middle of the street following confrontations at the border fence. The father is heard accusing Hamas of corruption and stealing Qatari money intended for Gaza's citizens.
"If it were the son of one of the Hamas leaders, he wouldn't be thrown out in the street with a bullet in his leg," the outraged father says.
"I was told I needed to provide his medicine out of my own pocket. If he were the son of one of the Hamas higher-ups, the whole world would have given aid."
The furious father blamed his son's situation on Hamas corruption.
"Let the heads of the Hamas come and see my son, only yesterday they received the Qatari money, and what did they do with it? They split the money among themselves," the man says.
"Where am I supposed to get money for medicine from? They told my boy to get on the bus and protest, and then they threw him out to die."
Qatar has transferred hundreds of millions of dollars in aid for Palestinians in Gaza.
Additionally, a recent video uploaded to social media shows a father beating his wounded son as he's getting out of an ambulance, apparently displeased at the fact that he'll have to fund his son's treatment alone.
Hamas, which is sensitive to any kind of criticism, hosts the occasional appreciation evening for those injured on their behalf, although these events have proven to be easy targets for those criticizing Hamas, especially on social media.
One such post displays a picture from one of the Hamas's celebratory meetings, accompanied by the message, "Go to the Gaza fence, take a bullet, lose a leg, earn fifty bucks!"