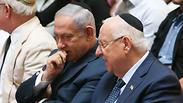 Prime Minister Benjamin Netanyahu
Photo: Alex Kolomoisky
Some 20 days have passed since Prime Minister Benjamin Netanyahu was given a mandate to form a new government. Now, with barely a week left until the 28-day period for the fulfillment of the task is over, there is still no government in sight.

Benjamin Netanyahu's Likud, Benny Gantz's Blue and White and Avigdor Liberman's Yisrael Beytenu continue to fortify their political positions which makes it more difficult than ever to close the existing gaps between the parties. As a result, there have been no meetings, no negotiations and no serious discussions of any kind.

But, as the time is running out and the pressure begins to pile, everyone will have to look for a strategy to resolve the situation. Blue and White will try to disassemble the Likud and part of the right-wing bloc, while Likud is counting on Amir Peretz's Labor to join them at the last minute and put pressure on Liberman to do the same.

Political analysts assess that once the 28-day period is up - by next Wednesday - the president will reject Netanyahu's request for a 14-day extension allowed by Israeli law, opting instead to pass the mandate to Gantz.

The question is why, despite the impasse, Netanyahu refuses to give the mandate back to the president and continues wasting everyone's time. Clearly, no government can be formed based on the conditions put forward by Netanyahu and Likud.

The right-wing is putting Netanyahu's behavior down to his fear that Gantz would be able to form a minority government if Liberman's Yisrael Beytenu was to either abstain or miss the vote on approving the new government.

Liberman, however, has already said he wouldn't support a non-unity government. "We would love to hear from the prime minister about him dismantling the ultra-Orthodox and Messianic bloc … then there will be something to talk about," said Liberman on Tuesday.

Liberman also said he was waiting for an answer from the Likud negotiating team to begin formulating "basic rules" which will be "acceptable to the majority of Israel," in order to form a government. But, Likud said they have no intention of initiating such a meeting.

Meanwhile, the Blue and White's strategy - once the party receives the mandate - is to apply enormous pressure on MKs further down on Likud's party list, telling them they might not enter Knesset if there is a third election. Case in point, in April election Likud won 35 seats, while in September vote the party won only 32, indicating a downward trend.