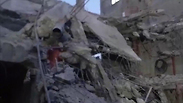 Home of convicted terrorist demolished
Abbas orders reconstruction of home of soldier's killer twice razed by IDF
'Israel's bulldozers will not break us,' says PA statement issued hours after IDF demolished home of Islam Yusuf Hamid, who killed Staff Sgt. Ronen Lubarsky, 20, by dropping marble slab on his head during 2018 arrest raid in same camp as demolished house
Palestinian President Mahmoud Abbas on Thursday ordered to rebuild the house of a Palestinian convicted of killing an Israeli soldier, just hours after the killer's family home had been demolished by IDF forces for the second time within a year.
Staff Sgt. Ronen Lubarsky, 20, died from his wounds after Islam Yusuf Hamid, 33, dropped a marble slab on him from a rooftop during an arrest raid in the al-Am'ari Refugee Camp near Ramallah on May 24, 2018. Hamid, also known as Islam Naji, was arrested by Lubarsky's comrades from the IDF's elite Duvdevan unit a month later.
"Israel's bulldozers will not break us or bend us," said the Palestinian Authority in a statement. "Our desire is stronger than their tanks and bulldozers. The victory is ours."
Hamid's home was demolished by the IDF's Combat Engineering Corps earlier in the day despite demonstrations staged by the Palestinians in the area. The home was initially destroyed in December 2018, but was rebuilt some time later with the funds provided partly by the PA.
The initial images of the rebuilt home appeared on social media last month when posts published by the killer's supporters appeared to show construction work on the previously destroyed home, accompanied by captions reading, "They will not break us, we are rebuilding."
Vladimir Lubarsky, the father of the slain soldier told Ynet it was unfortunate that only reports in the media brought the situation to the IDF's attention. "There are many more homes of terrorists that have been rebuilt" he said.
The soldier's killer pled guilty to "intentional killing" which is considered a murder under the military code which applies to Palestinians in the West Bank, and was sentenced to life and eight months in prison on July 22, 2019.
The military judge said in his ruling that Abu Hamid had a "murderous ideology" and ruled his family must compensate Lubarsky's family with NIS 258,000 (under $75,000).
After their son's death, Staff Sgt. Ronen Lubarsky's parents and siblings joined an organization of families who had lost members to Palestinian violence, advocating for corporal punishment for terrorists.
They had petitioned the military court hearing the case of Abu Hamid, for compensation in the sum the killer's family is expected to receive from the Palestinian Authority, 5NIS million ($1,418,000), as part of its controversial policy to grant stipends to families of prisoners involved in the Israeli-Palestinian conflict.
Their petition was rejected by the court.