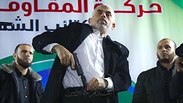 Hamas's leader in Gaza, Yahya Sinwar
Hamas warns it has enough rockets to target Tel Aviv for 'six months in a row'
Yahya Sinwar, the terror group's leader in Gaza, threatens to turn Israeli cities into 'ghost towns' and warns that 'thousands of traps' and 'thousands of kilometers' of attack tunnels are waiting for IDF soldiers in the coastal enclave
Hamas's leader in Gaza, Yahya Sinwar, on Monday threatened to turn Israeli cities into "ghost towns" and warned the terror group has enough firepower to launch rockets into Tel Aviv "for six months in a row."

The remarks come just days after the latest cross-border flare-up between Israel and Palestinian factions in the coastal enclave, which saw at least 10 rockets being fired at Israeli communities near the Gaza border. A home in the southern city of Sderot sustained a direct hit. In response, the military said, a series of Israeli strikes targeted sites belonging to Hamas.

Speaking at a rally in Gaza, Sinwar appeared to be unfazed by the threats made by Israeli officials following the rocket barrage on Friday evening. "We have heard the threats Israeli leaders made towards us, but we will still make them curse the day they were born."

"Various intelligence agencies are trying to undermine the stability in the Gaza Strip," Sinwar said, adding that Hamas has "many secret tools to counter the attempts made by Israeli intelligence to infiltrate Gaza."

The 57-year-old also warned Israel against launching a ground operation in Gaza, claiming there are "hundreds of thousands" of traps waiting for Israeli soldiers and "hundreds of kilometers" of attack tunnels hidden underground.

He added that Hamas militants are manufacturing anti-tank missiles themselves in order to counter Israeli armored forces in the area.

Earlier, Sinwar said negotiations regarding a possible long-term ceasefire arrangement, as well as prisoner exchange talks, have stalled since Israel doesn't have a government and is unable to make important decision.