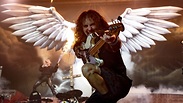 Iron Maiden
Photo: John McMurtrie
Heavy metal giants Iron Maiden will entertain Israelis in 2020 when they perform at Bloomfield Stadium in Tel Aviv on May 30.

The concert is part of their Legacy of the Beast World Tour, named after a mobile game released by the group in 2017 featuring their mascot "Eddie," who appears with them during the live shows as well as on the cover of their albums.

Although the British band performed in Israel back in 1995, this will be the first time the group will appear with its original frontman, Bruce Dickinson, at the helm. He left the band in 1993 and rejoined the group six years later.

Israeli heavy metal band Orphaned Land is expected to open the show, with the ticket prices starting at NIS 290. Tickets go on sale on Thursday.

Iron Maiden was formed in 1975 and has enjoyed an overwhelming success as pioneers of heavy metal. They have sold over 100 million albums worldwide.

The group is the latest in a string of international artists that have chosen to perform in Israel despite the pressure from the Boycott, Divestment and Sanctions movement, which seeks to - among other things - impose a cultural boycott on the Jewish state.

Last August, the American pop-diva Jennifer Lopez performed at Tel Aviv's HaYarkon Park as part of her "It's My Party" world tour.