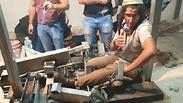 Yitzhar settler welds himself to the floor to evade security forces
Neria Zarug, banished for three months for 'violent acts against both Palestinians and the security forces,' constructed large metal and wooden clamp for his leg in effort to prevent removal from West Bank settlement, assisted by residents who pelted firefighters with rocks
An extremist settler wanted by the Israeli secuity forces devised a two-layer shield to thwart his arrest - a home-made mechanical contraption attached to his leg and the residents of the West Bank settlement of Yitzhar.

Neria Zarug, a married father of two, lives and works as a goatherder in the outpost of Komi Ori, immediately beside Yitzhar, that is as of now a closed military zone.

According to defense officials, "Zarug is a dangerous, violent and extreme activist, who is well known to security forces in the area. He was banned from entering the region because of recent violent acts against both Palestinians and the security forces."

An administrative detention order was filed against Zarug and signed by GOC Central Command Maj. Gen. Nadav Padan, which would have removed the settler from his household for three months.

According to the security forces, such extreme restraining orders are only issued to dangerous and violent activists, to prevent them from escalating tensions in a certain area.

Zarug refused to abide by the order issued two months ago, staying in Yitzhar and urging Padan to revoke his removal order.

Various attempts were made over the last few days to apprehend Zarug, who is residing in several homes in Yitzhar, but to no avail.

Although he has managed to evade law enforcement so far, his friends and relatives realized the clock was ticking for his freedom and decided to make a public showing in order to draw attention to his situation.

Therefore, they constructed the multi-part mechanical device, soldered it around his right leg and welded it to the floor in the settlement. The main objective of the device is to prolong police's efforts to take him into custody, while an ongoing protest takes place.

On Sunday afternoon, SWAT teams arrived at the house where Zarug was welded to the floor. After realizing they could not free him from the device themselves, a team of fire fighters was called to the scene.

But when the fire fighters arrived, they were met by several youths sitting in the driveway to the settlement with large rocks, burning trashcans and other objects blocking the rescue personnel from entering Yitzhar.

The firetruck turned around and returned to its station, and in its place came a military jeep from the IDF Caracal Battalion armed with special equipment to remove the obstacles.

As residents protested outside, the security forces entered the house with work tools, among them an angle grinder, and began to work to free him.

It seemed that most of the residents were willing to conduct non-violent protest, even a sort of a festival. Next to the house, cookouts took place, a clown on a unicycle arrived and there were even people playing instruments and singing for Zarug.

But suddenly, as with many similar incidents, a group of children started throwing rocks and eggs at security forces, causing both protesters and security forces to clash violently.

Several local Yitzhar leaders arrived at the scene in an effort to calm the youths. For a time, the situation quieted down, until Zarug was allegedly hurt on the leg by the release attempts.

His screams, which could be heard from inside the house, helped to raise tensions once again, and the clashes between settlers and police resumed - with three policemen and 15 settlers being wounded.

Zarug was freed from his device after a five-hour process and taken into custody.

But as military and police forces began to exit the settlement, dozens of youths started hurling stones at them. Caltrops that were spread all along the road punctured the tires of several police cars.

Protesters also triggered a settlement-wide blackout in an effort to prevent police from identifying the rock throwers.

Yitzhar has been the site of multiple clashes between settlers and security forces, most recently last month, when a soldier was lightly hurt after rocks were thrown at troops patrolling the area.

IDF Chief fo Staff Aviv Kochavi ordered security forces to track down those involved in the attack, calling the incident and similar events in the preceding days "delinquent" behavior.

"It is inconceivable that IDF soldiers who work night and day to defend the settlers are attacked by those they protect," he said.