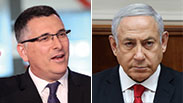 Sa'ar and Netanyahu
Photo: Avi Moalem, EPA
Netanyahu rival Sa'ar makes official request to hold Likud leadership race
The ruling party appears to be in disarray as MK Gideon Sa'ar publicly challenges PM by officially requesting to hold snap primary leadership elections in the event the country goes to the polls for the third time in 12 months
Prime Minister Benjamin Netanyahu's rival and Likud MK Gideon Sa'ar made an official request on Sunday, demanding the ruling party holds snap leadership primaries in a bid to unseat Israel's leader in case the country holds an unprecedented third elections in 12 months.

Netanyahu on Thursday suffered a heavy blow to his hopes to remain in office after Attorney General Avichai Mandelblit announced his decision to indict the prime minister for bribery, fraud and breach of trust in the three corruption investigations into the veteran politician who has led the country for more than a decade.

"Calling it an 'attempted coup' is irresponsible and tramples upon the state systems," said Sa'ar, referring to Netanyahu's remarks made in a fiery speech shortly after the charges had been announced.

"Netanyahu won't be able to form a government. We need to go to snap elections in the next 21 days," he said.

"We (Likud) are a democratic party, we are not Yesh Atid (one of Blue and White constituent parties) that cancels internal elections. Likud haven't had primaries for many years now. I will be able to form a government and unite the country."

The prime minister's legal woes amplified voices within the party calling to unseat Netanyahu after over a decade at the party's helm, although most still side with the indicted leader.

"Sa'ar's request is wrong and comes at a bad time," said Likud MK and Tourism Minister Yariv Levin, adding that if the internal elections were to be held, he would vote for Netanyahu.

Likud Central Committee Chairman MK Haim Katz said on Saturday that Likud MKs who want to challenge Netanyahu for the party's leadership should be able to do so, giving a green light to the premiership poll.

After Netanyahu and Blue and White party leader MK Benny Gantz both failed to form a government after the Sep. 17 elections, President Reuven Rivlin announced on Thursday the beginning of a 21-day period where 61 MKs could recommend any member to begin forming a government before the next elections are called.