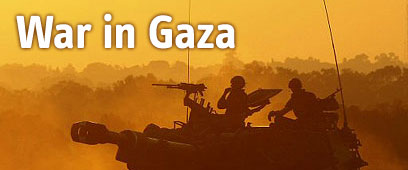 IDF soldiers in Gaza
Photo: AP

IDF chopper (archives)
Photo: AFP
First incident since ceasefire: Palestinian gunmen opened fire at Israel Defense Forces soldiers in the northern Gaza Strip on Sunday morning, about six hours after the unilateral ceasefire declared by Israel took effect. The soldiers fired back.

During the incident, which took place near the Sajaiyeh neighborhood, two gunmen fired a mortar shell and fired from small arms towards an armored force. The two were spotted by an Air Force chopper and a tank which attacked them with shells. One of the gunmen was killed and the other was injured. There were no injuries among the soldiers.

Worried

Three weeks of barrages with casualties and panic won't end so fast, inhabitants of rocket-stricken communities fear – despite ceasefire declaration. Ashkelon mayor worried, his Sderot counterpart optimistic. Some residents demand: Continue Gaza operation

The IDF stressed that the gunmen were attacked after firing on the soldiers, and that this was not an offensive measure.

Meanwhile, Israel continues to transfer goods to the Strip. About 170 trucks carrying fuel, food and medicines were expected to enter the Strip on Sunday through the border terminals.

Palestinians reported Sunday that four bodies had been found in the Gaza Strip – one in the al-Atatra area and another near the town of Beit Lahiya. The bodies belong to Palestinians who were killed in the past few days as part of Operation Cast Lead.



IDF forces in Gaza (Photo: Reuters)
While Israel's unilateral ceasefire in Gaza went into effect at 2 am Sunday, the security establishment estimated Saturday night that Hamas would continue to fire rockets and mortars toward the country's southern region in the coming days to prove that they "have the "last word in the conflict.
Earlier, Defense Minister Ehud Barak told reporters that IDF forces will remain deployed in Gaza.
"We are holding our fire, but will remain vigilant," he said, "we've met our military objectives and are now holding our fire, but Hamas may fire at the forces and the home front. The army will remain deployed in Gaza and is prepared to continue and even expand the operation if needed. Israel's citizens must also be prepared."
Sources close to Defense Minister Barak said the security establishment is gearing up for possible escalation in Gaza and has drawn up operational plans in case Hamas violates the truce.
"We are preparing for the possibility that Hamas didn't get the message and that we'll be forced to resume the offensive and perhaps intensify it," one source said.
IDF forces in Gaza have been instructed to only open fire upon sources of rocket fire towards Israeli towns or gunfire directed at them.
Hanan Greenberg contributed to this report