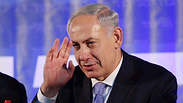 Like Shamir, Netanyahu realizes there are moments when you can't say 'no'
Photo: Motti Kimchi
Amnon Abramovich
Photo: Channel 2
If there is a compliment Prime Minister Benjamin Netanyahu deserves it's exercising caution in using force. Not being trigger-happy. That's a valuable trait, in my eyes at least. In his first term, he got into trouble for a moment when he opened the Western Wall Tunnel. In his second term, he launched a limited and short-term operation in Gaza called Pillar of Defense. But in general, he has shown a lot of restraint in situations in which other prime ministers would have already opened fire.

This caution is seen by his rivals as cowardice. I prefer to see it as discretion and serious consideration. Senior army and defense establishment officials, who have worked and work with Netanyahu, say that even when approving operations and sudden attacks, close activities and activities far beyond the border, he thinks deeply and is fussy, weighing the options before giving the green light. More than once or twice, to the regret of the defense establishment heads who had already prepared the system and stormed the action, he rejected operations.

Peacemaker Sharon

Op-ed: Ariel Sharon was the last right-wing statesman capable of bringing peace to Israel

The big question is what he wants to do when he grows up. As what kind of prime minister does he want to be remembered in the books of Israel's history. History has a habit of dividing leaders into three types: Pioneers, those who reverse trends, and those who fail the outcome criteria – what they received from their predecessors and what they left their successors.

David Ben-Gurion was a pioneer. Menachem Begin reversed a trend through a peace treaty with Egypt, one of the results of which was Israel's return to the international border, while Egyptian President Sadat inserted the Gaza Strip as a bonus. Begin is also responsible for the following declaration: The Palestinians, their legitimate rights and their justified claims. Although in sub-letter he had the pleasure of referring to the Palestinians as the Arabs of the Land of Israel. Yitzhak Rabin and Shimon Peres reversed a trend with the Oslo Accords. Ariel Sharon with the disengagement. It's reasonable to assume that had Sharon stuck to his health rather than falling asleep and becoming silent, he would have extended the disengagement to significant parts of the West Bank.

Two prime ministers who got the country in a good state and left behind ruins were Golda Meir and Ehud Barak. Golda with the Yom Kippur War. Barak with the hasty escape from Lebanon and the Second Intifada. Golda felt ashamed and went home. For years, her associates are arguing argumentations of punishment. Barak looked after his own interests, his houses and his daughters. He still acts like he is entitled to change.

Of all prime ministers of the past, Netanyahu can be likened to Yitzhak Shamir. They both gained a lot of years in this position. Shamir served for three terms and Netanyahu is in his third term. They are both described as people with modest goals who only sought to play for time. And yet, it should be mentioned that Shamir practiced restraint during the first Gulf War and avoided an Israeli operation in Iraq so as not to harm the alliance between the United States, the West and Arab states. He was responsible for, or at least participated in, two major prisoner exchange deals. One of them was the infamous Jibril Agreement, whose code name was "new frame of mind." Shamir also went, namely led by the American administration, to a diplomatic conference, the Madrid Conference, which he was forced to attend under protest. He realized then what Netanyahu likely realizes now: There are moments when you can't say "no." If you there say "no," the results will be much worse than the results of saying "yes."

These days, Netanyahu is facing an Israeli-Palestinian memorandum of understanding brokered by John Kerry. Out of the joint paper is expected to burst forth a willingness to remove settlements, an agreement to security presence in the Jordan Valley as opposed to sovereignty, and signs distinguishing between Jerusalem and east Jerusalem. It's too early to know what the final document will look like.

Netanyahu saw himself, in his mind's eye, striking in Iran and removing the nuclear threat. That will likely not happen. But also a peace agreement will add him into history. There is even a certain resemblance between the missions: The likelihood of both of them is quite slim. In Iran, the main thing was the message rather than the pointless execution. With the Palestinians the main thing is ending or reducing the occupation, lifting the threat of a bi-national state and returning to the family of nations. Not necessarily peace.