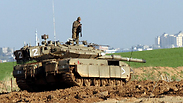 IDF tank on Gaza border. Israel unwilling to live with drizzle of fire from Strip
Photo: Roee Idan
It's very reasonable to assume that the Hamas organization did not know beforehand about the barrage of Grad rockets launched at Ashkelon on Thursday. And its people definitely did not fire the rockets. There are serious doubts the Islamic Jihad's senior commanders took part in this attack either, as such a massive firing of rockets contradicts the understandings between Hamas and the Jihad in the Strip.

Estimates are that it was either Jihad dissidents or rebels in the Strip who fired rockets at a large Israeli city for the first time since Operation Pillar of Defense in a bid to cause mass injuries.

Aerial Response

IDF releases video documenting air force's aerial response to rocket fire on Israel in which IAF jets destroyed Gaza Strip rocket launch site, arms warehouse and munitions factory

The rockets were fired early in the morning, apparently based on a (wrong) evaluation that the Iron Dome systems are on low alert. If it were not for the alertness of the Iron Dome battery, we would have now been in the midst of a violent round, which could have deteriorated into an overall conflict, as there are no restraining elements left in the Strip: Egypt – which was a key element – is not longer an address for exerting pressure.

And so, three weeks since an Israeli citizen was killed by sniper fire near the border fence, the Gaza front is heating up. Hamas and Israel have no interest at the moment in breaking the rules set in Pillar Defense. But as time goes by, the deterrence is eroding – both Israel's deterrence towards Hamas and Hamas' deterrence towards the Jihad and Salafi terror organizations in the Strip.

In the past three weeks, the Israel Air Force struck seven times in the Strip in response to 17 incidents of rockets fired at Israel. The IDF is using the opportunity to attack "high-quality" targets which, if hit, could stop Hamas from growing stronger with more self-made rockets and long-range rockets.

And so the front is threatening to explode because of what intelligence officials refer to as "gang brawls over control of the neighborhood" – brawls which Hamas is failing to gain control of. The IAF strikes and the rocket fire from Gaza are escalating. The targets attacked on both sides are becoming more "high-quality."

Hamas is responding slowly, if at all, to the attempts to challenge its rule. It is creating a situation in which it is getting Israel "accustomed to" living with a drizzle of fire: Here a sniper, there a missile, which will not force Israel to launch another Pillar of Defense.

We've seen that before. But in Israel – at least according to the talk – no one is willing to go back there. The IDF's annual evaluation for 2014 determined that the most unstable front, threatening to explode, is the Gaza front. This estimate is materializing even faster than the army predicted.