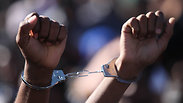 'Some policies against asylum seekers are tantamount to illegal expulsion'
Photo: Gil Yohanan
Tens of thousands of African asylum seekers in Israel have taken to the street in protest of a new law that allows the Israeli government to detain them in isolated internment camps indefinitely without so much as a trial or refugee status determination procedure.

Prime Minister Benjamin Netanyahu and Minister of Interior Gideon Sa'ar have made it clear that the government intends to use all means possible to encourage asylum seekers to leave Israel, including offering them money and making their lives so difficult that leaving seems more attractive than staying. These high-ranking officials have failed to acknowledge the dangers so many people fled and the risks that they would face if they returned home.

Great Debate

Shaul Rosenfeld and Avi Dabush discuss the New Israel Fund's support for the tens of thousands of asylum seekers in the country, and what it means

To investigate what happened to a large cohort of asylum seekers who returned to their country of origin, I have traveled to South Sudan and interviewed South Sudanese who were deported from Israel in 2012.

Following South Sudan's independence, Eli Yishai, Israel's minister of interior at the time, announced that all South Sudanese nationals must leave Israel. If they left voluntarily, they would each be given plane tickets and $1,300; if they refused, they would face indefinite detention in Israel or forced deportation. Nearly all reluctantly agreed to leave given the alternatives.

In my interviews with approximately 150 of the returnees, I asked: "If South Sudan is so terrible, then why didn't you just agree to stay in detention in Israel?" and "Would you prefer to be in Israeli detention now?"

These were not easy questions for me to ask. In fact, I find this line of questions personally offensive. Some of my respondents lost children to illness soon after returning from Israel. Others lost friends to criminal violence. The majority of the people I interview told me they have acquaintances or family members who were killed in the recent wave of civil unrest that has swept South Sudan since December 2013.

This is a sample of some of the narratives I collected:

"I thought South Sudan was better than it was, because the Israeli government told us everything would be fine and we would receive jobs and housing. We know now that this is not true, and today we would prefer indefinite detention in Israel."

"We were told we would be forcibly deported from prison, so figured it would be better to keep our honor and return when they told us to. If we knew we could have actually stayed in detention indefinitely, we would have preferred this."

"We did not want to go against the law. If the Israeli people do not want us in their homes, how can we stay?"

"We knew what would happen in South Sudan, but did not want to go to prison. Yet, if given the choice now, we would rather be in prison."

This last response was common among those who knew precisely what they were getting into. Some had fled previous violence between Dink and Nuer militias, and others had close friends and relatives who described the hunger, unemployment, violence, and corruption in South Sudan. Why did they not choose detention in Israel?
Unreasonable decisions
In addition to speaking with returnees, I also interviewed 22 individuals who helped South Sudanese repatriate. These individuals included employees of Israeli government agencies, international NGOs, local Israeli organizations, and friends of those who went back. Some of these individuals regretted their decision to help with repatriation, but some defended their assistance with the same logic: "No reasonable person," I was told, "would agree to go back to a country where they will likely be persecuted. So they are unlikely to be persecuted."

People are not reasonable. That is the reason indefinite detention is wrong. People often discount their future preferences, even with full knowledge of the outcome. Everyone, at times, makes decisions with ample information about the likely consequences and later regrets such decisions. For most of us, this doesn't cost us our lives.

We cannot go back in time and ask victims who have died, "Why did you listen to the deportation order?" But we can listen to those who survive deportation, and find themselves victims again. The South Sudanese who were deported from Israel tell us a simple story that is consistent with what we know about the human mind: We make unreasonable decisions which we later regret, even when we may have had extensive information, and especially when we did not.

When an asylum seeker agrees to go back to their country of origin rather than stay in detention, this does not signify that detention is worse than going back to one's country of origin. Perhaps not all policies against asylum seekers are tantamount to illegal expulsion, but some are. Indefinite detention is one of them, and needs to stop.

Mollie Gerver is a PhD Candidate at the London School of Economics and a member of Right Now: Advocates for Asylum Seekers in Israel. She has been active in refugee advocacy in Israel since 2007