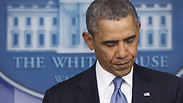 Obama. Perceived as a hesitant and weak president
Photo: AFP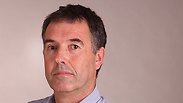 Prof. Yossi Shain
Photo: Amit Magal
Russia's annexation of the Crimea peninsula announces a new era in international relations. The Russian act is a direct challenge to the global balance of power – and especially to the status of the United States and its president.

Obama is now dealing with a strategic challenge with critical and long-term ramifications: Lack of firm action in Ukraine to stop Putin may provide authorization for a further Russian expansion in the post-Soviet satellite states, where there are many who miss the big brother from Moscow. In other words, a passive attitude on the part of the US in Ukraine may also encourage aggressiveness in other arenas in the world.

Crimea Crisis

Analysis: Quite a few Israeli politicians are envious of Russian president, asking: 'Why don't we conquer Gaza tomorrow morning?' But Putin should not serve as an example to us.

Putin is in fact casting a doubt on the leadership of Obama, who is perceived as a hesitant and weak president. Few believe today in Obama's policy, which stressed the advantages of "soft diplomacy" over the use of force. Many see this policy as a "fantasy," as it was called by the Washington Post in a profound and sarcastic editorial.

Obama deserves the criticism, but the following question must be asked: What can he really do now? How can the US prevent strong countries from acting aggressively and annexing territories?

The US and Europeans have decided at this stage to impose sanctions, such as cancelling the G8 summit in Sochi and freezing Russian politicians' bank accounts. But Putin remains unfazed. On Tuesday he announced his desire to defend other Russians in Ukraine against the new "Nazis."

The White House must, therefore, prepare for the next stage in the conflict, which will likely require more serious moves. The pressure on Obama from the Congress is growing, and Senator John McCain has even announced that it's time to provide Ukraine with military assistance as Putin is challenging the credibility of America's leadership in international relations.

If Putin doesn't stop in Crimea, should the US consider stationing forces in the Baltic countries, sending soldiers to Kiev, or stationing anti-missile systems in the Czech Republic and Poland? These are dangerous options, and no one is looking for a military option which could deteriorate into war. But Putin, as he was defined by British newspaper The Guardian, is a political thug who responds to power rather than to weakness. When Obama stresses diplomatic moves, Putin smiles and reads it as a cowardly response.

The coming days are days of challenge for world peace. Let's hope that both the Russian thug and the hesitant American will find ways of restraint.