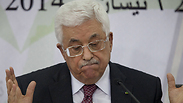 'After 20 years of talks, it's time for us to internalize that Abbas doesn't want a peace agreement'
Photo: AP
Most people are committed to their image. Most politicians are committed to the image of those who elect them. This is Justice Minister Tzipi Livni's biggest tragedy. This is also Economy Minister Naftali Bennett's biggest tragedy. They are both sitting in the government; they are both no longer capable of affecting its policy.

For many years now, the Palestinians have been dictating the State of Israel's foreign policy: We build in Jerusalem as a response to the Palestinians, threaten annexation as a response to the Palestinians, release terrorists as a response to the Palestinians, announce a peace process and run it only according to Palestinian timetables.

Failed Talks

Analysis: Despite current crisis, announcement on continuation of talks between Israel and Palestinians will likely be made soon.

Israel is being dragged. The decisions are being made by others. There are no Israeli decisions because it's right, only because it doesn't matter.

After 20 years of talks, it's time for us to internalize that Mahmoud Abbas doesn't want a peace agreement. He is incapable of taking that step, regardless of whether the reason for that is political or mental. Abbas has been through more and less convenient Israeli leaders and American presidents. In the end it comes to the same point.

Those who blame Prime Minister Benjamin Netanyahu for the failure of the talks are forgetting that former Prime Ministers Ehud Olmert and Ehud Barak failed before him. One can accuse Netanyahu of hesitancy, one can say that he is incapable of making decisions, but one cannot blame him for the fact that Abbas remains Abbas.

In the State of Israel there is a post-national leftist minority. Its point of view is the Palestinian interest. It is filled with feelings of guilt before a feeling of belonging. Every time the talks between the sides fail, it sees that as proof of the Israeli injustice. Every time a round of violence erupts, it uses the failure of the peace process to explain it. There is always a cause and an outcome. The Israeli cause, the Palestinian outcome.

Tzipi Livni, Labor Chairman Isaac Herzog and most of the members of Meretz are not there. They see the reality, understand it very well, but are finding it difficult to say it out loud. Tzipi Livni is asking us not to declare the demise of the process which provides her with political vitality and legitimacy. Herzog and Meretz Chairwoman Zahava Gal-On want us to know that they could have done it differently.

They are committed to the image of peacemakers, committed to voters who believe that if we only wanted it a bit more, we would be able to create a paper which would put an end to the conflict. Their image is binding even when reality sucks.

On the other side we have Bennett. He actually talks a lot about a peace agreement being impossible, and in the same breath suggests what is impossible. His suggestions for a separation from the Palestinians are purely theoretical. They deal with annexation, not with what remains on the territory which will not be annexed. Bennett knows that, but he feels comfortable because the burden of shaping the reality is not on his shoulders. The image obligates him to oppose negotiations, not to create a different direction.

This is the Israeli reality: Peace that cannot come, a political dispute over what cannot happen. As opposed to the words blown into the air by US Secretary of State John Kerry, Israel will not become an apartheid state because there is no peace, just like the US did not become a failed democracy because it failed to spread democracy in the world. Sometimes the ideal bumps up against an iron wall. It's unpleasant, but that's reality.

The State of Israel is a liberal democracy with a large territory which requires decisions. One cannot deny the fact that a policy must be created. On the other hand, one cannot invent an agreement which does not exist, despite the American administration's wishes. The important argument between the Left and Right in Israel is not about peace but about the separation technique between us and the Palestinians. As long as we don't argue about reality, we will fail to shape it.