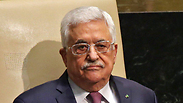 'A Palestinian leader who accuses Israel of genocide has no intention of being a partner for peace'
Photo: EPA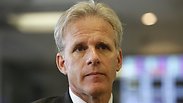 Former Israeli Ambassador to the US Michael Oren
Photo: AP
In his address to the United Nations General Assembly, Palestinian Authority Chairman Mahmoud Abbas proved that he is not a partner for peace.

And a Palestinian leader who accuses the State of Israel, which arose from the ashes of the Holocaust, of committing genocide in Gaza, apartheid and ethnic cleansing, has no intention of becoming a partner for peace either.

Different View

Op-ed: Despite historical distortions in Palestinian leader's aggressive UN address, Israel has no one better to negotiate with.

In his previous General Assembly speeches, Abbas denied the Jewish people's historical connection to the Land of Israel and Jerusalem. But this time he conveyed an unprecedented message: He does not want negotiations – not even American-brokered talks – and is not interested in durable pace based on security arrangements and mutual recognition.

The fact that Israel doesn't have a partner for peace has been accepted by the Israeli public a long time ago. But now we are forced to acknowledge a new fact: That Abbas poses a danger which may be revealed as strategically more serious than the tactical dangers posed by Hamas.

His remarks at the UN on Friday mark the opening shot of a political Palestinian initiative aimed at isolating Israel in the international arena, delegitimizing it and imposing sanctions on it.

Abbas' plan basically sets an impossible ultimatum for Israel: He has asked the UN Security Council to impose a nine-month period of negotiations, during which the core issues will be discussed based on the 1967 borders, without security arrangements and with a solution to the refugee problem.

If Israel refuses to accept these conditions – and there is not a single Israeli government, even a left-wing one, which will be prepared to accept them – Abbas will turn to the International Criminal Court in order to impose sanctions on Israel as an occupying force of a UN member state.

Abbas' plan will be submitted to the Security Council and may be approved there as well, at least partially. Such a move has far-reaching consequences: The international community may impose boycotts on Israel which will inflict heavy damage on the economy and on Israelis' ability to travel around the world.

It's important to understand that these sanctions are not aimed at achieving better starting point for future negotiations – but at putting an end to the Zionist enterprise.

Although this move is a strategic threat to Israel, this doesn't mean we don't possess the tools to deal with it. We must not sit idly by the in face of the strategic danger posed by Abbas. Just like the PA chairman is creating a route bypassing negotiations, through which he is forcing Israel to defend itself to the world, Israel must create, through an active move of its own, a route bypassing Abbas.

As part of this move, Israel will promote a political initiative which will maintain its vital interests and set borders which will secure our future and identity as a democratic and Jewish state. Leaving an open door for future negotiations over permanent agreements with the Palestinians will be possible – but only when there is a responsible Palestinian leadership which is willing to reach an agreement and capable of doing so.

We must not forget that we are not operating in a void. The United States and President Barack Obama are currently dealing with significant threats in our region, led by ISIS. When Obama said in his UN address that the establishment of a Palestinian state was part of the war on ISIS, he was basically demonstrating how the regional challenges are only increasing the pressure on Israel.

All this highlights the need for Israel to take action in the diplomatic arena as soon as possible. From my talks with senior US Congress members and top European diplomats, I believe that such an initiative will be received with a lot of interest – and will even gain support.

We must not wait for the point in which we have lost control over our future. The Zionist approach is to initiate for our future.

Michael Oren served as Israel's ambassador to the United States.