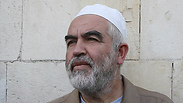 Sheikh Raed Salah. 'Insisting on leading the Palestinians to another disaster'
Photo: Gil Yohanan
Murderers are murderers. They are neither protestors nor peace activists nor people pursuing coexistence or equality. They murder because of incitement and hatred, not because of deprivation, oppression or discrimination.

Those who carried out the terror attack in Jerusalem on Wednesday belong to that exact dark species. They are part of the global jihad, which has not boundaries, and extends from Canada to Nigeria, from Paris to Jerusalem.

Synagogue Horror

Analysis: From one isolated incident to another, we've got ourselves an intifada on our hands, which is threatening to be as fatal as the two previous ones, both for us and for them. There are no winners here – only victims.

Not every terror is like that. The terror of the past few years is. There were years in which we could talk, although barely, about terrorism against oppression and occupation. It happened in many conflicts, including in the Israeli-Arab conflict.

The terrorism of the global jihad, which includes all its branches, from Hamas to the Islamic state, from Boko Haram to the Taliban, has a common denominator: An Islamic rule of the world.

Jerusalem is at the center of incitement, orchestrated by the head of the global jihad's branch in Israel, Sheikh Raed Salah. For years, he has been trying to inflame the situation. For years, he has been inciting under the slogan "Al-Aqsa is in danger." This is a historic slogan. The copyright belongs to the mufti, Haj Amin al-Husseini. Salah adopted it.

He didn't need the provocations of those who are in favor of praying on the Temple Mount, as silly as they may be, in order to persist in his incitement. Because he is not interested in a status quo, and the talks about changing or not changing the status quo make him chuckle.

For many years, he has been accusing Israel of schemes made up by his own delusional mind, just like the mufti – his spiritual leader – did. The mufti led the Mandate Arabs, before they even knew they were Palestinians, from one disaster to another. It wasn't enough. Salah is insisting on leading them to another disaster.

It's not that the entire Muslim public in the Middle East or in the world buys into what Salah has to offer. When he tried to reach Morocco, he was arrested the moment he landed. Jordan has banned his entry time and again. In Israel he goes from courthouses to prisons. But most of the time he is free to continue his incitement.

He is one thousand times more harmful than the insistent Temple Mount faithful, but the Israeli democracy, which is failing to defend itself, hasn't come up with a way to stop the incitement of the mufti's successor. How long will this last?

We should also admit that the coexistence isn't working. The residents of the eastern side of Jabel Mukaber, where the perpetrators of Tuesday's murder came from, have petitioned the High Court in the past in order to stay on the Israeli side of the separation line. They favored Israel over the Palestinian Authority. Of course that did not prevent a series of terror attacks originating in that neighborhood. Without separation and with an Israeli identity card it's much easier.

One of those who took advantage of this range of opportunities is 'Alaa Abu Dahim, who carried out the murderous attack at the Mercaz Harav Yeshiva in 2008. The question of coexistence was also raised then. Then too, like today, there were those who continued to nurture the illusion of a "united city."

There is no need for a majority to make the lives of both Jews and Arabs miserable. All it takes is a determined and murderous majority. And it's unclear whether this is a small minority.

The chance of coexistence is almost nonexistent. Separation was a must then, and it's a must today. But instead of separation, there are Jews who insist on settling in the heart of every Muslim neighborhood. It's not that Salah needs Jewish provocations. But he definitely welcomes all the help he can get.

Israel is helpless, both against Salah and against the insistence on a fake unification and population mixture. We need to sober up. It's a shame that we have to pay for it with so much blood.