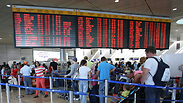 More than 14 million passengers passed through Ben-Gurion Airport in 2014
Photo: Yaron Brener
Turkish Airlines, easyJet and Lufthansa were the three most active foreign airlines in Israel in 2014, carrying more than 11% of the 14,266,628 Israeli and foreign passengers who passed through Ben-Gurion International Airport in the past year.

El Al, as usual, ranked first among all airlines in the airport's 2014 report after carrying more than 4.65 million travelers throughout the year – nearly 33% of all passengers who passed through Ben-Gurion and an 8.6% increase in the number of passengers carried by the company.

Reduced Fares

Spanish airline Air Europe is offering special deals on flights from Tel Aviv to Madrid, Lima, Sao Paolo and Buenos Aires.

The second place among all airlines, and first place among foreign airlines, went to Turkish Airlines, which carried more than 694,000 passengers in the past year and presented a 19% growth from 2013.

British low-cost airline easyJet climbed from the fifth place to the third place, and the second place among foreign airlines, with 524,444 passengers and a 53.42% growth thanks to new destinations added last year. The company launched its activity in Israel five years now and has so far carried more than 1.5 million passengers from and to Tel Aviv.

Israeli airline Arkia came in fourth with 509,737 passengers and a mere growth of less than 1 percent, followed by Lufthansa – which ranked third among foreign airlines – with 384,036 passengers and a 4.84% growth.

Russian airline Aeroflot (370,000 passengers) ranked sixth, followed by the American United Airlines (357,000) and the Turkish Pegasus Airlines (344,000).

The three major global airline alliances - Star Alliance led by Lufthansa, SkyTeam led by Air France and KLM, and Oneworld led by British Airways – carried more than 5 million passengers (about 35% of the passenger traffic) from and to Israel.

The most popular destinations for flights from Israel in 2014 were the United States (about 1.452 passengers), Turkey (1.312 passengers) and Germany (1.105 passengers). The figures do not represent the actual number of passengers who flew to these countries as many arrive in the US on connecting flights, or continue from Turkey and Germany to other countries.