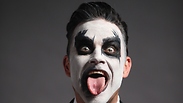 Robbie Williams. Special message to Israeli fans
British pop sensation Robbie Williams is about to embark on his European tour, which will include his very first concert in Israel.

Ahead of the concert, which will be held at Tel Aviv's Yarkon Park on May 2, the singer issued a special invitation to the Israeli audience.

Robbie Williams addresses Israeli audience

"Tel Aviv, Israel! Me, Robbie Williams, coming to see you. It's like a first date," he announces in a short video. "I've got butterflies in my stomach. I can't wait. I hope you feel the same way too.

"Tel Aviv, are you ready? Please come to see the show. There'll be singing, there'll be dancing. There will be love, mainly me beaming it to you from my heart into your heads and minds."

Well, we can't wait either.