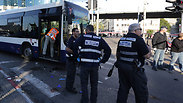 Scene of attack on bus No. 40. A microcosm of Israel
Photo: Yaron Brener
Once every few days, when the weather won't allow me to walk, this is my bus. Bus No. 40. It stops very close to the Yedioth Ahronoth building. More than other bus lines, it's a line of coexistence. It passes in Jaffa as well. Jews and Arabs get on this bus on their way to central and northern Tel Aviv.
Foreign workers, Arab women with or without a hijab, asylum seekers and veteran Israelis, including haredim, are the regular mix on this bus in these morning hours. A microcosm of Israel. One could hold a referendum there and get real results.
Fighting Terror
Analysis: There are steps that Israel can take to reduce the chances of yet another 'lone-wolf' attack; making political gain from such an event is not one of them.
How did the terrorist from Tul Karm know who was Jewish and who wasn't Jewish? He didn't really care. A video segment filmed in one of the nearby businesses shows passengers fleeing the bus. The terrorist was among them.
Two women are seen escaping. One is wearing a scarf, which could be used as a hijab. So is the other. One of them is stabbed. She could be Arab. The other runs to help her. Why is he stabbing a woman who might be Muslim herself?
In order to understand the answer, we must expand our look at the terrorism of this era, which has global jihad's name written all over it. It makes no distinctions. In fact, it mainly kills Muslims – so does it really matter if they are killed here, in Nigeria, in Mosul or in Raqqa?
Why by sitting on a Zionist bus and going to work in the morning, Arab women – perhaps the two from the video, perhaps others – are cooperating with the heretics, and deserve to die.
Make no mistake. This wasn't a terror attack against the occupation. This wasn't a national attack. There may have been such terror attacks in the past. No more. The terror attacks of the past few years are not attacks aimed at protesting a certain injustice.
Does anyone seriously think that the despicable terrorist used a long knife so that the Palestinians would have a sovereign state, prosperity, welfare, advanced education and human rights? Does anyone think that the vile terrorist is frustrated over the fact that the two states for two people solution has not been realized? Come on. Nearly all the attacks of the past few years are aimed at imposing Islam on central Tel Aviv, just like they are aimed at imposing Islam on central Paris.
The terrorist targeted bus No. 40 precisely because it represents Israeli normalcy. The normalcy of Israelis who go out to work every morning. The normalcy in which Arabs and Jews can live together despite everything.
This normalcy is irritating. It's not a simple normalcy. It's normalcy with numerous tensions and problems. But it's still normalcy. It can and should be improved. It's not that there is great harmony between the many different people who travel on the bus, but considering the lack of normalcy in every area in which this terrorist's friends gain their strength – and it's happening in too many places around the world – we should welcome what we have.
It's unclear whether the terrorist had any idea about the nature of bus No. 40 and its passengers. It is clear that the terrorist wanted to carry out an attack against the normalcy which this bus line represents.
The terrorist can be defeated. And that will happen when the normal Israelis – Jews and Arabs – insist on the continuation of this normalcy.