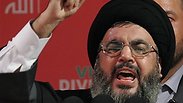 Members of Al-Mustaqbal party even tried to convince Nasrallah to call off his planned speech
Photo: AP
Different, contradicting voices came out of Lebanon on Wednesday after the anti-tank missile attack on Mount Dov: One the one hand, the arrogant comments of Hezbollah Secretary-General Hassan Nasrallah and a joyful parade of the organization's supporters; on the other hand, deep fear among the public and the Lebanese government of a round of fighting with Israel that will lead to destruction.

In an unusual manner, Hezbollah rushed to claim responsibility for the firing incident Wednesday. In the afternoon, Nasrallah issued a statement saying that "the fighters of Hezbollah's Quneitra Shuhada (martyrs) group attacked an Israeli patrol vehicle in response to the assassination of six Hezbollah fighters and a senior Iranian officer by the IDF last week." He was expected to deliver a speech on the situation on Thursday.

Shiite Organization

Senior Lebanese officials say Nasrallah is dragging the country into another war in Israel; 'Hezbollah has no right to implicate the Lebanese people in a battle with Israel,' says leader of March 14 Alliance.

The organization itself spread false arrogant rumors that 15 soldiers were killed in the incident and that several soldiers were kidnapped. In the Dahiya Quarter, Hezbollah's stronghold in Beirut, the organization's supporters launched a "victory parade" in response.

Nonetheless, it appears that both Hezbollah and its patron Iran have no interest in escalating the situation vis-à-vis Israel right now. Hezbollah, under Iran's orders, is stuck deep in the bleeding Syrian mud in an attempt to preserve President Bashar Assad's regime against the rebels. It is suffering losses there, and is therefore subject to harsh criticism from the Sunnis in Lebanon who see it as unnecessary and unjustified bloodshed.

Iran, which is pushing Hezbollah, has a lot to lose too. Its leadership is worried that its fingerprints against Israel will negatively affect the negotiations on the nuclear issue, which are expected to resume in a few days.

President Assad, who is engaged in power struggles, definitely has no interest in opening a front against Israel as well right now. The Syrian pound reached an unprecedented low on Wednesday following the incident: 190 Syrian pounds per US dollar. Such an exchange rate has not been recorded in Damascus in the past 50 years.

But the ones who are most concerned about a round of fighting against Israel appear to be the Lebanese government and public. On Wednesday, throughout the entire day, the prime minister and senior public officials held talks with international leaders and institutions in an effort to calm the situation down in order to prevent an Israeli response. As far as Lebanon is concerned, such a response could lead to a long round of fighting which would inflict huge economic damage on the country.

"We have not violated the understandings of the Second Lebanon War," the Lebanese prime minister said, and ministers in his government warned that "an Israeli response will lead to an escalation at the expense of millions of citizens."

Yedioth Ahronoth has learned that members of Lebanon's Al-Mustaqbal party even tried to convince Nasrallah to call off his planned speech in order to prevent an unnecessary provocation against Israel.

Two senior politicians in Beirut, Walid Jumblatt and Samir Geagea, poisonously accused Nasrallah: "You started it two weeks ago when you threatened to respond if Israel strikes in Syria. You started a new front against Israel – and you are dragging Lebanon into ruin and destruction again."

Prime Minister Benjamin Netanyahu's comparison of the situation to Operation Protective Edge – and the threat "that the response will be painful" – sent spokespeople to Lebanon's television studios to explain why everything should be done to calm Netanyahu down and silence Foreign Minister Avigdor Lieberman, who demanded a "disproportional response."

M.A. an academic from Beirut, described the worst nightmare of the majority of the Lebanese public in a telephone conversation with Yedioth Ahronoth: The fear that Israel will blindly strike Lebanon, drive away thousands of residents, cause Hezbollah to fire missiles – and drag Israel into a counterattack deep inside Lebanon.

"If I could offer some advice," he said, "I would suggest that Israel bomb Hezbollah's weapon and missile depots. Kill two birds with one stone, and no one will have any complaints towards you."

Veteran Lebanese commentator Akram Mounif warns that a war will destroy the tourism industry in Lebanon. Like in 2006, it will drive away hundreds of tourists and kill the Lebanese economy's most profitable industry.

The Quneitra strike and Wednesday's incident caught Lebanon without a president, with millions of refugees who fled Syria, with a tense border and with an unstoppable reminder in the Beirut media of the sentence Nasrallah said on the Dahiya Quarter ruins following the Israel Air Force bombings in the Second Lebanon War: "Had I know that Israel would respond so powerfully, I wouldn't have started it."