Meir Dagan. Concerned for the future of the Zionist dream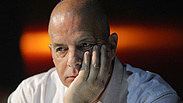 Former Shin Bet director Yuval Diskin
Anyone who is capable of comparing dock workers and Israel Broadcasting Authority employees – including people who fought in Israel's wars – to Hamas terrorists, is also capable of turning Meir Dagan – who was wounded twice in wars and operations, received a Medal of Courage and led bold operations in the IDF and the Mossad – into an ungrateful leftist (is that a bad word?) and almost an enemy of Israel.

I saw the Likud's miserable response to the Dagan's speech, in which he was defined as a frustrated 'leftist' who had asked Prime Minister Benjamin Netanyahu to extend his term and was turned down by him. From personal knowledge, I can tell you that if Dagan is a 'leftist' by nature, then Netanyahu and the Likud spokespersons secretly hold a membership card in the joint Arab list.

Political Game

Op-ed: Artist Yair Garbuz turned Likud voters into illiterate mezuzah kissers, and Prime Minister Netanyahu linked them to Hamas. But while Garbuz represents himself, Netanyahu is supposed to be the responsible adult. And time and again, he fails.

I also read the comments made by Ofir Akunis, a honorary member in the Likud's trash talk band, who slammed Meir Dagan's 'ingratitude' towards Netanyahu, who had 'saved his life.' For a moment I thought I might not have remembered correctly and that is was Netanyahu who had donated his own liver to Meir Dagan.

For the sake of full disclosure, I would like to stress that I am a very close friend of Dagan and love him dearly. The love and trust between us were created and stood the test of times throughout many years of joint activity on a variety of operational issues and other activities which I will not elaborate on here.

From close and personal knowledge, I can say that Dagan has done more about the Iranian issue and several other security-related issues than Netanyahu and all the other Likud spokespersons combined. Unlike Netanyahu, what he did was not just speaking at the UN or at the Congress – and I am not belittling the importance of that. And when the day comes, the people of Israel will know and understand what I'm talking about.

Dagan doesn't specialize in speeches, but as you saw in the rally, he is a real, authentic person and a huge patriot who is concerned, like many others – including myself and Netanyahu's associate until not so long ago, former Prime Minister Ehud Bark – for the future of the Zionist dream. That is apparently enough to slander him in such an ugly manner.

Dagan was wounded twice during his military service and has been suffering from those wounds for years. He is also an exceptionally courageous person. Here is the description of the action for which Captain Meir Huberman (Dagan) was awarded the Medal of Courage:

"On January 29, 1971, two patrol jeeps commanded by Captain Meir Huberman traveled through an internal road between the Jabalia refugee camp and Gaza City. A taxi carrying local residents passed them by on the way. Captain Meir Huberman spotted a wanted terrorist known as Abu Nimer among the taxi's passengers. He ordered the jeeps to stop, and the soldiers who got out of the jeeps encircled the taxi and stopped it.

"Captain Meir Huberman approached the jeep, and at that very instant, Abu Nimer, who was sitting at the front seat near the driver, opened the taxi's door, pulled out a grenade, released the safety catch and threatened the soldiers, saying: 'We will all die.' Captain Meir Huberman shouted 'grenade!' in order to warn his subordinates, and at the same time jumped on the man, got hold of his hands, and after a short struggle, managed to get the grenade out of his hand and overpower him. Another terrorist was discovered among the taxi's passengers.

"In this act, in which he put his own life at risk, he prevented losses and helped capture two dangerous terrorists. For this act he was awarded the Medal of Courage." April 1973, Lieutenant-General David Elazar, the IDF chief of staff.

Dagan is a man who puts theory into practice and a man of operations, who served as the Mossad director for nine years. Two of those years were under Netanyahu, who could have replaced him at any time, as there is no Mossad law determining the Mossad chief's term. I can tell you from personal knowledge that Dagan served as head of the Mossad out of a deep sense of mission and commitment, especially in regards to the Iranian nuclear issue. This is an area which he largely led during his years as the Mossad chief, regardless of the prime minister's identity.

One can agree or disagree with Dagan. One can attack his views and try to undermine them. But why stoop so low? It's not surprising though. Anyone who can release a video in which port workers and Israel Broadcasting Authority employees – some of whom fought in Israel's wars, including in Operation Protective Edge – are compared to terrorists and to Hamas, can surely say whatever he wants about Meir Dagan.

Yuval Diskin is a former Shin Bet director.