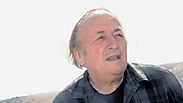 Yair Garbuz. Part of a handful of radical leftists who are incpabale of restraining their racism
Photo: Avihu Shapira
Between amulet kissers and 'Hamasniks,' election campaign going downhill
Op-ed: Artist Yair Garbuz turned Likud voters into illiterate mezuzah kissers, and Prime Minister Netanyahu linked them to Hamas. But while Garbuz represents himself, Netanyahu is supposed to be the responsible adult. And time and again, he fails.
I kiss the mezuzah. Sometimes. I have no idea why. It's a habit. Perhaps a matter of identity. According to Israeli artist Yair Garbuz, that makes me part of a dark "handful" which has taken over the country.

Well, I have news for Garbuz. This "handful" doesn't control anything. This "handful" is made up of people, including downtrodden people. They carry this country on their shoulders. Some of them vote for the right. Some of them vote for the center and even for the left. Yes, even the left has mezuzah kissers.

Insensitive Comments

Op-ed: By mixing former Mossad chief Meir Dagan's illness with politics, Likud MK Ofir Akunis crossed all limits of insensitivity and vulgarity.

Most mezuzah kissers are working people. They didn't even have time to recover from Garbuz's arrogant, patronizing, racist blow, when they found out that they are not only dark. They are part of a group which also includes Hamas members. That's what the Likud's horrifying clip succeeded in producing.

And in order to make us understand that this election campaign is going downhill, came the defamatory words of journalist Hagai Huberman who accused Michal Kesten-Keidar – the widow of Lieutenant Coronel Dolev Keidar, who was killed last summer in Operation Protective Edge – of killing her own husband. She just thinks we need peace, and that makes her guilty of the serious crime of manslaughter.

There is a week left before Election Day, and this collection of incidents points to the deterioration of the election campaign. These incidents don't say anything about the public. Apart from the violent provocations of Baruch Marzel and his gang, this election campaign was not characterized by violence. On the contrary. But these incidents point to confusion and panic.

When it comes to the radical right or radical left, like Garbuz or Huberman – so be it. Each camp has its own fanatics, and they are far from representing the camp. The problem is that someone is dictating this agenda.

This isn't Hamas' first appearance in the election campaign. It was already attached in earlier stages to Prof. Yossi Yona of the Zionist Union. But the level of political stimulation for spins has decreased. So the Likud was forced to attach Hamas not only to a dove like Yossi Yona, but also to those who are part of organized labor. And the word "laborers," has a reddish tone to it. A leftist, God forbid.

The problem is that we are talking about a significant part of Likud voters and supporters. Not all of them are connected wheeler dealers. Many of them, especially the voters, are hardworking employees. Garbuz turned them into illiterate mezuzah kissers, and Prime Minister Benjamin Netanyahu linked them to Hamas.

But there is a difference between Garbuz and Netanyahu. Garbuz represents himself and maybe, just maybe, the handful of radical leftists who are incapable of restraining their own racism. But Netanyahu is a prime minister. He dictates things. He is supposed to be the responsible adult. And time and again, he fails. In the past, he spoke about the leftists who "have forgotten what it means to be Jewish." Now it's the workers, many of whom, perhaps most of whom, are actually Likudniks. In the past, it was said in a whisper. Now it's an election clip.

This is happening mainly because there is no real debate about anything. Absolutely nothing. Almost every partner in the political game – from the left, from the right and from the center – has things to say that ought to be heard. But in this election campaign, they were hardly voiced.

Netanyahu, with a great amount of talent, managed to dictate most of the agenda, starting from the video about the crumbling prime minister's residence, starring Sara Netanyahu (after he asked us "not to involve her in the election campaign"), to the election clip in which even Likud voters are attached to Hamasniks. In such a situation, Garbuz and Huberman come out of their holes to add fuel to the fire of spins and nonsense.

The voters, one should hope, are a bit smarter. So are the mezuzah kissers and laborers among them.