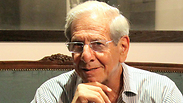 Chaim Topol. 'Not surprised, but happy'
Photo: Dana Kopel
Veteran actor Chaim Topol, who is best known for playing the role of Tevye the milkman in the musical show and film version of "Fiddler on the Roof," will be awarded the Israel Prize for lifetime achievement on Israel's upcoming Independence Day next month, the Education Ministry announced Monday.

The prize committee was chaired by former Chief Rabbi Israel Meir Lau and its members included Rabbi Prof. Daniel Hershkowitz, Prof. Suzie Navot, Brigadier-General (res.) Avigdor Kahalani and actress Lea Koenig.

"I am very excited and happy that my work is being recognized, "Topol told Ynet. "I'm not surprised, but I'm happy, because people have been talking about it for many years. When they called me, I said thank you very much. Every year, I send two recommendations of people who deserve the Israel Prize, and they are definitely very worthy of it. So when they informed me, I felt uneasy because I think they deserve it more.

Not just a Milkman

As he continues to star in 'Fiddler on the Roof' productions worldwide, leading Israeli theater and film actor can't find an interesting role in his own country. 'I won't play in movies that come out against the State,' he declares.

"I didn't do anything in my life alone. There is Yosef Millo, who was the best director in Israel, and he hasn't received the prize yet. I'm not thinking of giving up the award, but there are people who deserve it more than I do. The two most important things in my life are the establishment of the Variety Israel organization 50 years ago and the Jordan River Village (for children with serious illnesses) which we opened five years ago. But we did it together. This isn't my personal doing."

The prize committee members noted that "Topol has been one of the central pillars of Israel's cultural industry for many years now. His diverse activity on stage earned the State of Israel a lot of respect. His activity left a mark on the foundations and infrastructures which led to the development of the entire field, and its influence is still evident in Israeli folklore, singing, acting and entertainment.

"In addition, Topol initiated and founded the Jordan River Village in the Lower Galilee for children with terminal illnesses. He is a member of the board of directors of Variety Israel, a non-profit organization which assists children with special needs, regardless of their religion, race and gender."

Topol began his career in Peter Frye's film "I Like Mike" in 1961. Two years later, he appeared in Menahem Golan's "El Dorado." He made his breakthrough in 1964 in "Sallah" by Ephraim Kishon, which was nominated for the Academy Award for Best Foreign Language Film and earned him the Golden Globe Award for New Star of the Year - Actor.

Following the film's success, he began performing abroad, but still starred in Israeli productions such as Kishon's "Ervinka" (1967) and Uri Zohar's "Boys Will Never Believe It" (1973).

Long before Hollywood discovered Israeli actresses Ayelet Zurer and Gal Gadot, it discovered Chaim Topol. The Israeli actor, which was known in the United States simply as Topol, starred in quite a few successful American productions, including Norman Jewison's "Fiddler on the Roof" (1971), Carol Reed's "The Public Eye" (1972), Mike Hodges' "Flash Gordon" (1980) and James Bond film "For Your Eyes Only" (1981). He also appeared in television mini-series "The Winds of War" (1983) about two families during World War II.

Alongside his success in the American studios, he received rave reviews from film critics. He won a Golden Globe Award for his performance in "Fiddler on the Roof" and was nominated for a Best Actor Oscar.

Ran Boker and Amir Bogen contributed to this report.