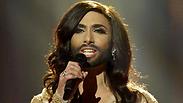 Wurst in the 2014 Eurovision Song Contest
Photo: Getty Images
VIENNA – Austrian singer and drag queen Conchita Wurst, who won the 2014 Eurovision Song Contest, will be the guest of honor at the Tel Aviv Pride Parade on June 12.

Wurst, who was born Thomas "Tom" Neuwirth, was supposed to perform in last year's Tel Aviv Pride Parade shortly after winning the Eurovision, but the visit was canceled at the last moment.

The bearded Wurst, who admitted that she was inspired by Dana International's Eurovision win in 1998, performed with the Israeli transgender artist two months ago in London at a festive event marking the European song contest's 60th anniversary.

In an interview to Yedioth Ahronoth after winning the Eurovision, Wurst expressed her desire to visit Israel, but her tight schedule got in the way.

Since winning the Eurovision, Wurst has become an icon of the LGBT movement worldwide. She recently released her first album, "Conchita," and is busy promoting it around the world.