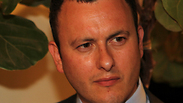 Outgoing British Ambassador to Israel Matthew Gould
Photo: Mati Milstein
My fear for a country I love
Op-ed: Israel's international standing is under grave threat not because of the actions of a small minority of BDS activists, says outgoing British ambassador, but because it is losing the sympathy and support of the moderate majority due to the lack of progress towards peace.
Currently my house is being packed up. These are my last few weeks in Israel. I am explaining to my daughters – who were born here and have lived all their lives here – that we are soon going to be leaving Israel for good. I'm sad to be leaving, and sad that before I leave I once again have to address the issue of BDS.

The British National Union of Students motion to support BDS has generated large coverage. But it has produced more heat than light. So let me be clear. There are 133 universities in the UK. Not a single one has an official boycott policy in place. Universities UK, representing all the UK's universities, has since reaffirmed that "it is firmly opposed to any academic boycott of Israeli universities."

BDS Campaign

Op-ed: A mixture of nationalistic and false statements about BDS campaign is blinding Israeli public and preventing a real discussion of the issue.

All the noise around BDS has no impact on UK policy. Britain is a friend of Israel. We are committed to promoting the UK's trade and business ties with Israel. We oppose attempts to delegitimize Israel. We oppose boycotts of Israel, and we reject calls for BDS loudly and unequivocally.

Prime Minister David Cameron could not be clearer in his opposition to boycotting Israel. As he said to the Knesset last year: "Delegitimizing the State of Israel is wrong, it is abhorrent and together we will defeat it."

This is not empty rhetoric. The reality is that the partnership between Israel and Britain has never been stronger. The facts speak for themselves. Trade is growing sharply every year. Scientific links are booming. From trade to tech, finance to science, our partnership has never been stronger and is getting better all the time. This is the mission of my embassy, under the clear instruction of the British Government. The facts should gladden the heart of anyone worried about BDS.

But there is bad news too. Israel's international standing is under grave threat. This is not because of the actions of a small minority of activists on campuses around the world. The real danger is that Israel is losing the sympathy and support of the moderate majority. The cause is clear: It is frustration at the lack of progress towards peace. And nothing corrodes goodwill more than repeated announcements about new building in settlements, that are taken to mean that Israel is not serious about peace.

International boycott movements are in the spotlight. Many of the people behind them are seeking to delegitimize Israel, who would damn Israel whatever it did. Israel will never win these people over.

But the more important challenge is to keep mainstream support, among ordinary people. These are not people who will condemn Israel whatever it does; far from it, they instinctively see that Israel is a liberal, democratic country like ours, and understand Israel's need for security.

To blur the boundary between BDS and the more dangerous loss of support and sympathy for Israel among the moderate majority is a serious mistake. It misdiagnoses the real problem and leads to the wrong responses.

The good news however is that there is still time to contain support for BDS to the small minority of delegitimizers, to show the moderate majority that Israel is serious about peace, and to shore up its international standing. Doing so requires bold steps, and honesty about the reasons why Israel's standing is under threat.

As I pack my bags and prepare to say a sad goodbye, I worry about what the future will hold for this country if Israel does not take decisive action and start to win back the middle ground. I see which way the wind is blowing, and I do not like it. I love this country, and I want a better future for it than that.

Matthew Gould is Britain's outgoing ambassador to Israel.