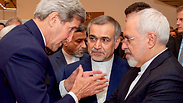 Kerry and Zarif in Vienna. Not a single mention of Israel in the agreement's 159 pages
Photo: Reuters
In all the 159 pages of the agreement with Iran I couldn't find a single mention of Israel – not even a hint. On one hand, it's a good thing: Had the world powers applied the same demands that they are applying on the Iranian nuclear program on Israel, we would be in deep trouble.

On the other hand, it's outrageous: An agreement of fatal importance to everyone living here has been signed above our heads, as if there is nothing between Tehran and Vienna apart from the ayatollah regime's good intentions. There is no Israel.

Can Iran Be Trusted?

Analysis: The Vienna agreement does delay Iran's construction of a bomb by a year or more, but if Iran chooses to violate the deal, it could get the bomb within a few weeks; Israel must prepare for a potential pre-emptive strike on Iran's nuclear facilities and on Hezbollah.

The disregard of Israel is not only insulting, it's dangerous. It may be hiding more dangers for Israel apart from the Iranian nuclear threshold. In some sense, it takes us back to 1956, when US President Dwight D. Eisenhower and Soviet Union Prime Minister Nikolai Bulganin sent threatening letters to Israel and forced it to withdraw from Sinai.

The American Congress applauded our prime minister; the Vienna negotiators ignored him. Judging from the outcome, It would have been better if they had applauded him less and showed more consideration towards his country.

The agreement's different sections deal with two issues, and with these two issues only: Nukes and sanctions. But their ramifications are immeasurably wide. It's not by chance that the global media rushed to refer to the agreement as "historic": Way beyond the nuclear issue, it marks a possible turning point in the balance of power in the Middle East, in Iran's diplomatic and economic – and perhaps military – standing and in its relations with the international community, and first of all with the United States.

The ayatollah regime earned worldwide legitimization without committing to change its agenda in any way, apart from freezing the nuclear program for 10 or 15 years.

US Secretary of State John Kerry, whose life's dream was to concoct an Israeli-Palestinian peace agreement that would bring him a Nobel Prize, will receive his Nobel thanks to the agreement with Iran. He will not be standing next to Prime Minister Benjamin Netanyahu and Palestinian President Mahmoud Abbas at the Oslo ceremony, but next to Mohammad Zarif, the ayatollahs' foreign minister.

Kerry will gladly accept the change: A Nobel is a Nobel. The agreement with Iran is what Kerry will take home with him when he ends his term. He will be praised for this agreement, and he will be humiliated over this agreement.

After the interim agreement was signed, I wrote that the agreement was the lesser of two evils: It should be judged not only by what it includes and doesn't include, but also by what may have happened had an agreement not been signed. Reviewing the full document strengthens this notion. It allows Iran to exist as a nuclear threshold country, one year away from a bomb. But the alternative – an aggressive Iran armed with nuclear bombs, free of supervision – is less appealing.

Netanyahu would have preferred an American military operation, which would have destroyed the nuclear facilities along with large parts of Iran. The Americans had no intention of doing that. When US President Barack Obama said that "all options are on the table," he was bluffing, just like Netanyahu was bluffing when he threatened to launch an Israeli military operation.

Netanyahu and former Defense Minister Ehud Barak invested billions in military preparations aimed at convincing the world that Israel intends on taking action. Throughout a certain period of time, the bluff worked: It helped step up the sanctions. The problem is that the sanctions didn't work. They caused a lot of damage to the Iranian economy, but they didn't stop the nuclear project.

Without military action, Netanyahu would have preferred a continuation of the sanctions. In the past few weeks, the efforts to continue the sanctions became an as important issue as the battle against the nuclear program. Once the sanctions are lifted, Netanyahu says, Iran will be flooded with money; that money will flow to Hezbollah and Hamas, and will be translated into terror against Israel.

His struggle against the agreement was based on a gamble – that despite the ongoing sanctions, Iran will beware reaching a nuclear weapon. It will remain on the threshold. With this gamble he is now going to the American Senate. But the Iranians are now the small part of his bet. The coffer has grown, the chances have dropped.

In the next two months, the Senate will serve as an arena of a violent battle between Netanyahu and the Obama administration. According to the initial reactions to the agreement, all the Republican senators will vote against it. Obama will use his veto power. In order to break the veto, Netanyahu needs 13 Democratic senators. He will get some of them, mainly those who depend on Jewish voters and Jewish funding. His chance of reaching 13 is not big.

It's not big because in his oppositional Congress speech and in all his comments since then, he has been pushing the Democrats into Obama's arms. It's not big because the American public opinion likes historic agreements, and it likes agreements which reduce the chance of another war in the Middle East even more. They have not gotten over Iraq and Afghanistan yet, and they have no interest in another front.

The chance isn't big because all the Democratic presidential candidates, led by Hillary Clinton, support the agreement. And it's not big because Obama is enjoying a good period, perhaps the best period in all his years as president. Suddenly, things are working out for him. It's hard to defeat a president in such a situation.

The battle against Obama carries a troubling price. It has to do with the compensation package the defense establishment expects to rightfully receive from America. Won't the battle free the White House from the duty to compensate Israel? Netanyahu is telling his ministers that he is unimpressed by the compensation. This is a worthless comment. Defense establishment officials don't share his opinion.

Isn't Israel pushing Obama to get rid of it on another front, the Palestinian front? If Obama launches his own plan, or orders his representatives to stop protecting Israel in international organizations, the diplomatic – and perhaps economic and moral – price will be heavy. And mainly, by providing services to the Republican billionaires, Israel is weakening the Jewish lobby and losing the support of the majority of Jews. It is selling its birthright for a mess of pottage.

Netanyahu is acting like a person convinced that this is a battle over Israel's actual existence. He is wrong: Israel will continue to exist. We are not facing another Holocaust.

The fact that Israel failed to thwart the agreement and even failed to influence its content is a total failure. But Netanyahu is immune to failures: In his world, there are only two options – either he wins, or he is a victim. He won the elections; in the agreement with Iran he is a victim.

Instead of giving the Israelis a realistic account of what happened, he is informing them that a holocaust is on the way. What will the Israelis do with the portions of intimidation he is making them sniff?

Ehud Barak arrived at a television studio on Tuesday evening to provide the Israelis with some insanity, some sobriety. It was a breath of fresh air on a humid day.