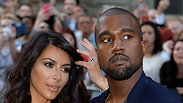 Kim Kardashian and Kanye West
Photo: Getty Images
You might know what it's like when you become a mother and your life suddenly changes at once. If you were used to travelling, once you have a new baby you usually end up paying a short visit to the mall. Well, not all mothers are like that, especially if your name is Kim Kardashian.

The queen of reality TV may have just given birth to her son, Saint, but Kim has already made plans for the new year, including a visit to Jerusalem in the spring with her husband, rapper Kanye West, in order to baptize their second child, just like they did with his big sister, North, last April.

And what will she do until she gets on the plane and heads to the Holy Land? According to celebrity and entertainment magazine Us Weekly, Kardashian will spend the winter months in hibernation with a lot of cardio workouts and an Atkins Diet.

"She will focus on spending time with Saint and not take on work commitments for the first three months," a source told the website.

According to the source, after returning to her pre-pregnancy weight, Kardashian is expected to come back to Israel with West to baptize their new son. You missed us, huh? Well, we can't wait to see you again!