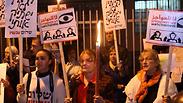 Protest against NGO foreign funding bill outside Minister Shaked's home, Saturday evening
Photo: Motti Kimchi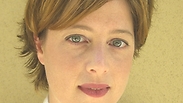 The government has been reminding me recently of the three wise monkeys: It doesn't want to hear, doesn't want to see and doesn't want to speak about inconvenient matters.

A wave of murderous attacks, increasing poverty rates, racism and discrimination which are more thriving than ever - and the government is not busy searching for solutions, but rather silencing the criticism. As lot of energy is being invested in this, and there are even creative ideas how to do it.

Politicized NGOs

Op-ed: European governments, which might not agree with Israeli policy, can use diplomatic means in order to protest. Instead, by funding NGOs which demonize Israel, the EU puts bilateral relations with Israel at risk.

Justice Minister Ayelet Shaked asked the Ministerial Committee for Legislative Affairs on Sunday to approve a bill aimed at silencing public discussions on the occupation, racism, discrimination against the Arab minority and violation of Palestinians' human rights in the territories.

Under the disguise of the transparency banner, the government approved a bill obligating NGOs operating on the public level to declare before every written or oral statement whether they receive donations from foreign countries and from whom exactly, and even to wear a special identification badge at the Knesset.

This is biased and political law. First of all, the proposal does not apply to many organizations which receive donations from wealthy people, business elements or other interested elements concealed from the public eye. Secondly, the transparency already exists: The NGO law has been requiring organizations for years to report donations in general and donations from foreign countries in particular. Absurdly, the bill completely ignores organizations which fail to report donations in accordance with the law or whose donations are confidential.

In fact, the bill has been tailored for specific NGOs, like the ones which have been persecuted in the past two weeks, and can be seen as another stage in the attempts to silence and harm them. It is not aimed at advancing transparency but at political labeling. If the goal was to advance real transparency, the obligation to declare funding sources would apply to all NGOs equally.

The public debate in the past few weeks has proved beyond any doubt that the organizations supported by foreign governments are completely transparent. The identity of the donors is published by the Justice Ministry's Corporations Authority and on the organizations' websites, as required by the law.

Transparency exists, so the new law is unnecessary. But as I said earlier, that is not its goal. Its entire objective is to de-legitimize organizations which challenge the government and its activities. "The foreign governments" we are talking about are governments which are friendly to Israel - the United States and European countries - and also donate to cultural institutions, to universities and even to the IDF. A donation from them is not a badge of shame, but points to shared values of democracy and human rights.

The bill assumes that organizations which receive donations from foreign governments serve them. This perception contradicts reality. Anyone familiar with civil society organizations knows that each of them sets its list of priorities and decides what actions it wishes to take, and only then turns to different bodies, including foreign governments, in order to fund them.

The freedom to criticize the government, supervise its activity and help those harmed by it is a vital way of action in a democracy. Those leading the attempts to curb it are also acting against international treaties signed by the State of Israel, which promise to defend human rights and those working to protect them. Ironically, the Israeli government boasts about its cooperation with human rights organizations and their freedom of action in reports it submits to the United Nations, but at the same time it tries to restrict them.

It's not too late. The law has yet to pass. Will we find any ministers in the government who care about basic principles of justice and decency and will prevent the labeling and silencing law?

Adv. Tali Nir is deputy director of the Association for Civil Rights in Israel (ACRI).