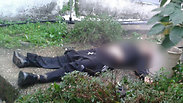 Nashat Melhem's body after exchange of fire with security forces in Ar'ara
It appears that Israel's security organizations, the Shin Bet and police, have no idea what is really taking place in Israel's Arab sector in general and in Wadi Ara in particular.

This is the main - and most concerning - security-related lesson from this affair, which began with a shooting attack on Tel Aviv's Dizengoff Street about 10 days ago.

Further Questions

Analysis: The Tel Aviv shooter hid in Arara, where many of his family members live. It seems that he kept the mobile phone of the taxi driver he murdered, and that he received aid. Melhem is now dead, but many questions remain unanswered.

If the terrorist, Nashat Melhem, felt safe enough to come home, hide there for several days and receive help without anyone reporting it, we are talking about a huge intelligence "black hole." It turns out that the police have no foothold in that area, and even more concerning is the fact that the Shin Bet did not have enough "sensors" there and had to use special investigation tools in order to gain a lead. And even if the Shin Bet did have infrastructure on the ground and did operate collaborators - they may have been the ones who actually thwarted its activities.

So when the prime minister announces an operation to collect the illegal weapons in the Arab sector, it's a case of almost ridiculous demagogy. The security organizations have no idea how many and what type of weapons are there, and where they are. There is not a single Israeli Arab who will voluntarily turn in a weapon. It's not just a Shin Bet project or a police task, it's a state-national task: To restore the Arab public's trust in the sovereign's ability to impose law and order on its streets.

From a professional perspective, capturing the murderer, an Israeli citizen, within seven days is a reasonable - even fast - period of time. But so many difficult questions have emerged and have been exposed over this past week, that the professional achievement seems very small compared to them.

Now starts the chapter which is as complicated as killing the murderer: Solving the case. Was there an organization behind him? Who were his collaborators? Did they know about the attack beforehand - or did they start helping him only afterwards? And if it was indeed an organization of people who took part in the planning or who knew about the attack - the intelligence failure is much bigger.

The key for understanding the events may be concealed in the words of Mohammad Melhem, the murderer's father: "I have been a member of the system for many years." His words can also point to his son's motivation to carry out an attack and shed light on a number of contradictory events: Starting from the father's announcement that he had turned his son in to his arrest along with other family members.

The license received by Mohammad Melhem to hold the lethal machine gun - which the son used to carry out the murder - and not just weapon for self-defense, strengthens the possibility that someone there had "special" relations with him. And this raises a question: What kind of normal police force allows a person to keep such a lethal weapon in such a hazardous place? The father's place within "the system," as he defined it, is an issue the police are likely deliberating these days.

The events which took place in the village of 'Ara on Tuesday raise professional questions as well: As a result of an intelligence move, the defense establishment already had at the time more than a reasonable suspicion regarding the murderer's presence in the area. Nonetheless, he managed to get away. Either someone warned him that the police were getting closer or the force was uncovered too early. That is probably not the only event in the affair which the police will draw operational conclusions from.

Nashat Melhem may have been a drug addict and he was definitely a criminal, but he was not feebleminded. A reenactment of his acts points to meticulous preparations: He collected information about the target, destroyed evidence and blurred his escape route. He didn't act like a crazy person, but rather left behind a bag with a Koran in order to indicate that it was a nationalistically-motivated attack.

The way he managed to slip away from the area uncovers another "black hole" in the Israeli internal security: Had Tel Aviv been a "safe city" like London and other modern cities, the affair would have been solved faster, as his escape route would have been documented. Tel Aviv has traffic cameras and security cameras in businesses, but it is far from becoming a "safe city" in which one can monitor real time criminal or terrorist activity through visual supervision and sophisticated computing systems.

Melhem had no problem killing the taxi driver who picked him up and enough composure to dismantle the camera in his vehicle. He knew that the taxi would be exposed very fast, so he abandoned it at the Glilot Junction and disappeared.

Even if he did act as a "lone wolf terrorist" until this stage, from this point onwards it's clear that he had partners. The supply prepared for him at the safe house he hid in, only 400 meters from where he was killed, allowed him to feel secure and wrapped by a supporting environment while the security forces patrolled the village.

The moment the intelligence marked Ar'ara as a main search area on Tuesday, the police put many efforts there, including deception tricks which included bringing in forces and taking then out alongside house-to-house searches, in an attempt to make him come out of his hideout. Yet he lasted three days before being caught.

While the outcome may point to an operational achievement, the way the public's panic was handled points to a resonating failure.