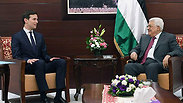 Kushner and Abbas during their meeting
Photo: Getty Images
Jared Kushner, the special adviser and son-in-law of US President Donald Trump, was tasked with writing a report on his meetings with Prime Minister Benjamin Netanyahu and Palestinian President Mahmoud Abbas earlier this week to determine whether the US administration should continue pushing for peace between Israel and the Palestinians, a senior Palestinian official has told Al-Hayat newspaper.

According to the Palestinian official, Kushner asked Abbas to present his vision for a political solution during the meeting, adding that he had asked Benjamin Netanyahu to do the same.

Visuals of Abbas's meeting with Kushner

Kushner said he would write a report based on his talks with the two leaders, and that Trump would decide whether to continue the process and present a peace initiative or withdraw it, if he concludes that both sides are not ready.

The senior Palestinian official added that Abbas refuses to meet the American Ambassador to Israel, David Friedman, because of his past support for settlement construction, and that the US delegation even rebuked Abbas for this during their meeting.

The official's account of the meeting was published after it was reported Friday that the Palestinians were deeply disappointmented at the meeting between Abbas and Kushner. Palestinian sources described the meeting held in Ramallah as tense, charged and unsuccessful.

According to sources, the American delegation arrived at the meeting pushing for all the Israeli demands, which did not allow for any progress to be made, or a discussion to be held on the negotiations themselves or a trilateral summit between Trump, Netanyahu and Abbas.

"The American delegation accepted the Israeli position on the issue of paying salaries to prisoners, painted it at the meeting as a means of encouraging terrorism and demanded that it be stopped," the sources said.

Another major issue was incitement. The Palestinians expressed great disappointment that these two issues were the main things the Americans talked , as opposed to the subject of a two-state solution, which the Palestinians tried in vain to get the American side to address.

Next month, a Palestinian delegation is expected to take off for Washington and continue the dialogue with the Americans, in preparation for a possible resumption of negotiations.