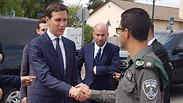 Jared Kushner lands in Israel, rushes to visit Malka family
Arriving in Israel to restart fresh peace initiative between Israel and the Palestinians, Trump's special advisor and son-in-law pays visit, along with US Israel Envoy David Friedman, to family of Hadas Malka who was murdered in Jerusalem terror attack; 'Kushner said that the president himself asked him to express condolences on behalf of the US.'
One of President Donald Trump's top Middle East advisors and son-in-law Jared Kushner touched down in Israel on Wednesday morning before paying a visit to the family of 23-year-old MSG. Hadas Malka, who was murdered last Friday in a combined shooting and stabbing terror attack in Jerusalem's Old City.

While Kushner arrived in Israel in a bid to restart a new peace initiative and negotiations between Israel and the Palestinians under the direction of the new administration, he immediately paid the visit to the Malka family in Givat Ezer as they continue to mourn their fallen daughter. He was joined by US Ambassador to Israel David Friedman.

A close friend of the Malka family said that the duration of the visit lasted for approximately half an hour.

"He offered the condolences to the bereaved family from the US president, who spoke to his son-in-law on the way and asked that he be kept updated about the visit," the friend said.

"(Kushner) said that the president himself asked him to express condolences on behalf of the United States."

The family associate went on to say that the Malka family had told Kushner about their brave daughter, her patriotism, and that that after serving in the IDF she joined the Border Police.

"She always said to them that it is important to guard the capital of Israel, Jerusalem because if we don't protect the capital, there won't be a state. The father told (Kushner) and the ambassador that," the friend claimed. "The ambassador was also apprised of developments regarding the investigation, which began with the arrest of the person who drove (the attackers to the target site—ed) and the arrest of one of the terrorist's mother.

"The father told him that on the one hand there is a mother who is crying and in pain over the death of her daughter. On the other hand, there is a mother who is praising and glorifying her son who should have killed more people from her point of view. The father addressed this stark contrast."

Kushner arrived in Israel shortly after another one of Trump's special envoys and Middle East advisor Jason Greenblatt. The two are preparing to hold meetings in Jerusalem and Ramallah during which they will hear directly from Israeli and Palestinian leaders on their priorities and deliberate over the next steps required in the fresh peace efforts.