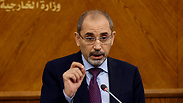 Jordanian Foreign Minister Ayman Al Safadi
Jordanian media outlets reported Thursday morning that the kingdom will not allow Israeli Ambassador Einat Schlein and her staff to return to Amman until Jordanian authorities receive guarantees that the embassy guard who killed 2 Jordanians will stand trial.

In an interview with Arabic-language Sky News, Jordanian Foreign Minister Ayman Al Safadi criticized Israel's welcoming of the embassy guard back to Israel, saying, "shameful and unacceptable way to behave diplomatically."

The incident unfolded last Sunday when two Jordanian workers were installing furniture for the guard in his residence along with the guard's Jordanian landlord. At some point an argument broke out between 17-year-old Mohammed Jawawdeh and the guard.

According to the Jordanians, the argument was in connection with a delay in the work. At some point, Jawawdeh attacked the guard with a screwdriver, who in turn, drew his pistol and shot him. The landlord was struck by a stray round and later succumbed to his wounds.

Following a visit by Shin Bet director Nadav Argaman, the entire diplomatic staff returned to Israel via the Allenby Crossing.

The guard, known as 'Ziv,' was greeted by Prime Minister Benjamin Netanyahu shortly upon his return from Amman. During the meeting, Ziv said, "A weight has been lifted from my heart. Thank you from my heart. I am happy to be here. Einat and I felt that people were standing behind us and were making every effort, we felt this and I am glad that we are here."